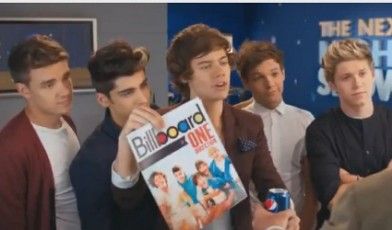 One Direction feature in a the highly anticipated new ad for Pepsi alongside New Orleans Saints quarterback Drew Brees.

The ad which premièred on Wednesday,shows Harry Styles and Drew fighting over a can of Pepsi from a vending machine.
They then proceed in an "I'm more famous than you" battle with the rest of the boys appear, reveal their platinum album, a Billboard cover and lots screaming teen fans. Brees points out he's won the Super Bowl, been awarded MVP status and has lots of his own screaming fans.
Niall Horan suggests, "If you give him the Pepsi, you can be in the band." Brees hands over the drink and the sixth member of One Direction joins the band on stage singing, "Live While We're Young."
With Drew belting out his lines, really, really badly.
See the video below:
[youtube_video id="Sfy8UYRhmpA"]