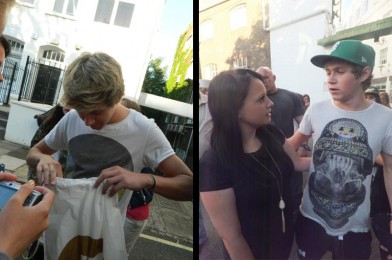 One Direction icon Niall showed his softer side yesterday, sending US fan Malena Butera a special birthday video. Should we really be that surprised? He has on many occasions shown Directioners love, and always has time for his fans.
I met Niall for the first time near Milkshake City ,London in June this year and I had bought him two snapbacks, a green New York Yankees and a Boston Celtics hat – which has the Shamrock as their logo.
I didn't have the hats on me when he showed up so I had to stop him to say I had the hats in my car. He told me he was coming back so I got them from the car and waited for him. Luckily, he kept to his word and came back. It was the first time I had met him properly and I was really nervous.
I gave him the hats and he gave me a hug.
I cought up with Niall once again at Key103live. We were staying at the same hotel as the boys we spoke about the hats.
Then the next time I saw him was at the studio in August. I gave him two more hats, this time they were both purple. Hundreds of fans were there.
So when he noticed me at teen awards I fangirled massively thinking the chances of getting seen by one of the boys at a concert was one In a million but to be noticed for giving him hats was epic because he remembered me.
I didn't care what for, he remembered me!
See the video below:
[youtube_video id="KaOMdCrXsPY"]