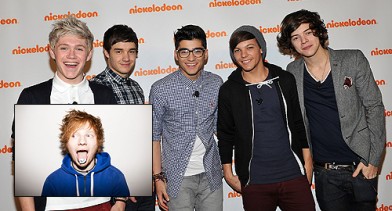 Ed Sheeran has revealed he has written two tracks for One Direction's upcoming November album release, Take Me Home.
Speaking to MTV News."The two songs that I wrote for One Direction's album are, they're the same subject matter as the last song I wrote for the last album 'cause they're from the same batch of songs. They're both about my ex-girlfriend."
While he tried to keep the specifics about the songs as secretive as possible, he did share that one of the songs might end up being a follow-up release to their latest single, "Live While We're Young." "One of them is kind of a getting-back together song. One of them is an appreciation song," he said. "I can't say the titles. The song that I think will be the single, one of the singles, is kind of a very sweet song."
And, by the sounds of it, it certainly will leave fans swooning. "It was written about the best things about someone, kind of like the things you wouldn't expect," he said. "You'll have to hear it. I can't really say too much 'cause it's their album. I want them to be the first ones to announce it and stuff."
We're always on the lookout for writers/presenters/videographers and photographers. If you think you have what it takes to join the writing team. Get in touch!
http://www.popscoop.org/joinus/

Posted Under
Twitter
Join us on Facebook