In a spectacular event that left audiences breathless, Madonna, the iconic cultural trailblazer, embarked on her highly anticipated The Celebration World Tour at The O2 in London. The first of six sold-out shows was nothing short of mesmerizing as Madonna took her fans on an emotional ride through her illustrious career, performing hits both timeless and forgotten.
This remarkable performance was not just a concert; it was a rare glimpse into Madonna's remarkable trajectory. From her struggling days in New York City to her unparalleled success, navigating personal and professional challenges, and embracing spiritual enlightenment, the show beautifully encapsulated the essence of Madonna's past while embracing the limitless possibilities of the future.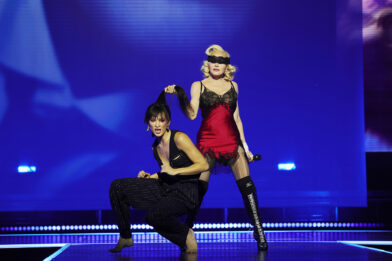 Under the masterful direction of long-time collaborator Jamie King and the musical prowess of Stuart Price, Madonna delivered a spine-tingling rendition of classics including "Nothing Really Matters," "Open Your Heart," "Like A Prayer," "Into The Groove," and "Crazy For You." The setlist, a blend of nostalgia and reinvention, resonated deeply with the audience.
Renowned for her groundbreaking tours, Madonna's Celebration Tour upheld her legacy of excellence. Every detail was meticulously crafted, from the mesmerizing choreography to the bold costumes and the most elaborate stage setup she has ever had, designed by Stufish. This fearless performance showcased Madonna at her best, reminding the world why she is the best-selling female artist of all time.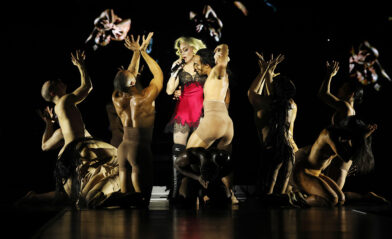 The Celebration Tour, spanning an impressive 78 dates, is a testament to Madonna's enduring appeal. Produced by Live Nation, the tour will continue its journey across Europe before landing in Madonna's adopted hometown of New York City in December, marking the beginning of the North American leg. The celebration will sweep across the US and Canada throughout spring 2024, culminating in four sold-out shows in Mexico City next April.
Madonna's impact knows no bounds, and her Celebration Tour stands as a testament to her unparalleled artistry, resilience, and ability to captivate audiences worldwide. As she takes her fans on this unforgettable musical odyssey, Madonna continues to redefine the boundaries of creativity, proving once again that she is the reigning queen of pop.
THE CELEBRATION TOUR EUROPE DATES:
Sat, Oct 14 – London, UK – The O2
Sun, Oct 15 – London, UK – The O2
Tue, Oct 17 – London, UK – The O2
Wed, Oct 18 – London, UK – The O2
Sat, Oct 21 – Antwerp, BE – Sportpaleis
Sun, Oct 22 – Antwerp, BE – Sportpaleis
Tue, Oct 25 – Copenhagen, DK – Royal Arena
Thu, Oct 26 – Copenhagen, DK – Royal Arena
Sat, Oct 28 – Stockholm, SE – Tele2 Arena
Wed, Nov 01 – Barcelona, ES – Palau Sant Jordi
Thu, Nov 02 – Barcelona, ES – Palau Sant Jordi
Mon, Nov 06 – Lisbon, PT – Altice Arena
Tue, Nov 07 – Lisbon, PT – Altice Arena
Sun, Nov 12 – Paris, FR – Accor Arena
Mon, Nov 13 – Paris, FR – Accor Arena
Wed, Nov 15 – Cologne, DE – Lanxess Arena
Tue, Nov. 16 – Cologne, DE – Lanxess Arena
Sun, Nov 19 – Paris, FR – Accor Arena
Mon, Nov 20 – Paris, FR – Accor Arena
Thu, Nov 23 – Milan, IT – Mediolanum Forum
Sat, Nov 25 – Milan, IT – Mediolanum Forum
Tue, Nov 28 – Berlin, DE – Mercedes-Benz Arena
Wed, Nov 29 – Berlin, DE – Mercedes-Benz Arena
Fri, Dec 1 – Amsterdam, NL – Ziggo Dome
Sat, Dec 2 – Amsterdam, NL – Ziggo Dome
Tue, Dec 5 – London, U.K. – The O2
Wed, Dec 6 – London, U.K. – The O2