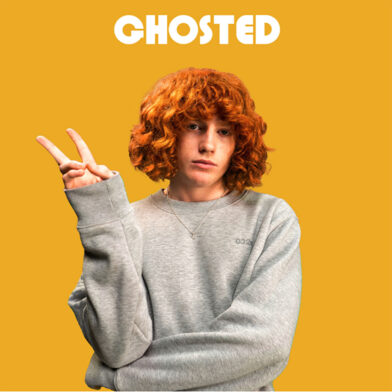 Meet 19-year-old Michael Aldag: a singer and a songwriter (but not a singer-songwriter), a producer, an accidental TikTok star and every inch a total popstar. The Merseyside born electro-pop artist continues to rise to heights after recently signing to UK based record label 3 Beat. His deeply relatable and honest lyrics, which are often described as 'soundtracks to life,' have cemented Michael's mark in the industry and made him a one to watch for 2021.
His latest single 'Tonsillitis,' an emotional song depicting a bleak period in Michael's life, landed him a press feature in the prestigious The Sunday Times 'Breaking Artist' section with the quote: "You can hear in its structural, almost hymnal formality and layered vocals traces of his experience as a member of the Liverpool Philharmonic Youth Choir. Pay close attention to the lyrics, which mix the bruised and the brutal, with shattering results." The single release also saw Michael land on Spotify UK's Home Page and further support from BBC presenter Dean Jackson on his 'The Beat' show, "Whatever you are doing…. take a moment to sit down and just fully appreciate this track. It is so well written, it's so well performed, it's so well sung, it's a very, very special track."
GHOSTED IS OUT NOW – https://MichaelAldag.lnk.to/GhostedIDSIGN UP TO MY MAILING LIST SO YOU DON'T MISS A THING – https://MichaelAldag.lnk.to/SignUpID FOLLOW …
While Michael takes an episodic approach to his songwriting, he's particularly interested, he says, in examining "the way people present themselves, as opposed to who they actually are." His upcoming upbeat single 'Ghosted' is the perfect example of how his lyrics are simultaneously honed and incredibly conversational. "Ghosted is a song about how social media can impact the way people operate within modern-day relationships," says Michael. "That's the posh way of saying a girl stopped responding to my messages so I got upset and wrote a song about it."
There's no stopping Aldag this year, he has an upcoming front cover and an interview confirmed for Notion Magazine's September issue, sold-out shows in both Liverpool and London, a headline slot at BBC Introducing at The Lexington, London and a debut album scheduled for early next year.
LIVE DATES
16 September: Bbc Introducing, The Lexington London
25 September: [Matinee], Kazimier, Liverpool – Sold Out
25 September: [Evening], Kazimier, Liverpool – Sold Out
29 September: Colours, London – Sold Out
16 October: Live At Leeds Festival
Pop Scoop founder and editor. Ex showbiz/tech editor at the Cyprus Mail. Former sub-editor at Archant. Former art director Sky TV. Co-founder of Kool Magazine and freelanced for the BBC, Channel 4, Warner Bros and the Cyprus Broadcasting Corporation.

Posted Under