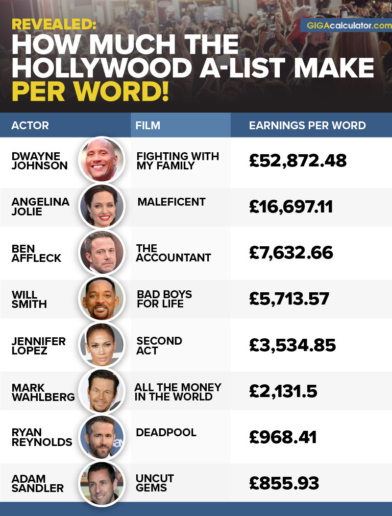 The millionaire salaries of movie stars fascinate even the least interested moviegoers, making it almost impossible for us to imagine what it's like to have this money in our bank account.
This is especially true when you consider how much the Hollywood A-list make per word!
Gigacalculator.com sought to find out how much movie stars have earned per word they're scripted by analysing the movie scripts and salaries of the highest-payed actors and actresses of 2020.
The Results:
From starting with £5 at the beginning of his career to becoming one of the highest-paid actors in 2020, it's no surprise that Dwayne Johnson is the first on the list. "The Rock" was paid £52,872 per word to play himself in the heart-warming comedy Fighting with My Family last year.
One of Hollywood's favourite stars, Angelina Jolie comes in second place. The award-winning actress and film director earned £23 million for her role in Maleficent, which equates to £16,697 per word for playing one of Disney's most iconic characters!
Ranking third is DC Comics most recent Batman, Ben Affleck. The movie star took £11 million to the bank for his lead role in the thriller The Accountant, providing him with £7,632 per word he was scripted.
Will Smith is fourth on the list. Smith made £5,713 per word on his latest film, the third flick of the Bad Boys trilogy, Bad Boys for Life.
Jennifer Lopez makes the top 5, banking £3,534 per word scripted in the romantic comedy Second Act.
In sixth place, Mark Wahlberg earned £2,131 per word for his role in the crime thriller All the Money in the World.
Ryan Reynolds' salary for the first Deadpool didn't earn him a giant paycheque, but it ranks the actor seventh on the list with £968 per word scripted.
In last place is the king of comedy Adam Sandler. Netflix's Uncut Gems may not have been the biggest payday of his career (only £2.3 million in comparison to his four-film deal with Netflix for £197 million), but he still earned £855 per word scripted.
Pop Scoop founder and editor. Ex showbiz/tech editor at the Cyprus Mail. Former sub-editor at Archant. Former art director Sky TV. Co-founder of Kool Magazine and freelanced for the BBC, Channel 4, Warner Bros and the Cyprus Broadcasting Corporation.