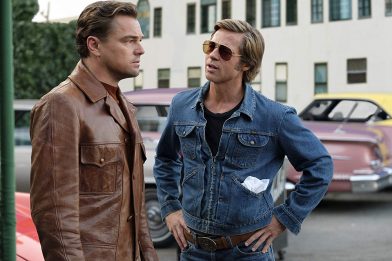 Once Upon A Time In Hollywood
If you're the sort of cinephile to follow the award campaigns, you've likely noticed that it's getting more and more difficult to actually see the contending films before they start handing out trophies. This is partly because distribution is more spread out (between major releases, arthouse films, and streaming services), but it's mostly due to the fact that most Oscar contenders come out in a very short span of time toward the end of the year.
2019, heading into the 2020 Oscars, might be a little bit different. With Quentin Tarantino's Once Upon A Time… In Hollywood having been released as the year's first surefire Oscar Best Picture nominee (at least as it was put by the LA Times), it feels like the award season buzz is starting early. That doesn't mean there won't be a lull before the bulk of the contenders are released, but the conversation, for once, has begun before the holiday season.
In time, that conversation will reach a thoroughly predictive level of analysis. Industry insiders will write articles and speak on podcasts, official odds for the Oscars will come out and paint a fairly strong picture of what to expect, etc. For now though, rather than predicting which films and individuals will actually win awards, we can take advantage of the Once Upon A Time… In Hollywood buzz to look ahead and simply point out the films that seem likely to be in the mix.
These are the movies you may want to make a point of seeing – beyond the new Tarantino project of course – in preparation for the award season.
The Goldfinch (September 13)
Based on a Pulitzer Prize-winning novel, The Goldfinch has been expected to be a heavy hitter for some time now. Starring Finn Wolfhard (as in Mike from Stranger Things), Ansel Elgort, Nicole Kidman, and Jeffrey Wright among others, it will depict a powerful, emotional drama surrounding an orphaned boy, a stolen painting, and a vibrant cast of characters. It's too early to say, but when those odds we mentioned come out, this film should be toward the top for Best Picture.
The Irishman (September 27)
The Irishman is being produced by Netflix, but will be released in theatres as well. It's a mob movie directed by Martin Scorsese and starring Robert De Niro, Al Pacino, and Joe Pesci – which all adds up to off-the-charts expectations.
The Lighthouse (October 18)
The Lighthouse looks to be one part horror, one part psychological maze. It will star Willem Dafoe and Robert Pattinson evidently going somewhat mad while stationed in a remote lighthouse. And let's just say the recent trailer made an impression.
Ford v. Ferrari (November 15)
Ford v. Ferrari could wind up being a very well done popcorn flick, but it certainly has the ingredients of an Oscar contender as well. Matt Damon and Christian Bale will play the roles of competing drivers in a true-story racing drama, with James Mangold directing.
The Report (November 15)
The Report isn't generating quite as much attention as most of the other films mentioned here, but a mid-November release, a cast sprinkled with critical favourites, and heavy subject matter makes it something of a stealth contender. It will be the first major film to delve into the CIA's post-9/11 torture tactics, and it will star Adam Driver, Corey Stoll, and Annette Bening.
A Beautiful Day In The Neighborhood (November 22)
Tom Hanks is playing the part of Mr. Rogers, which is really about all there is to say for this one. It could simply be a feel-good movie with a pleasant portrayal by Hanks, but the November 22 release suggests the studio may be aiming higher.
Cats (December 20)
Cats already seems to be the most polarizing film of 2019. The trailer basically freaked the whole internet out in more ways than one, and no one quite seems to be able to figure out what the musical adaptation is going for (including Idris Elba, who is in the film). Nevertheless, Tom Hooper (an Academy favourite) is directing, and the cast is simply stacked with celebrities, from Judi Dench and Ian McKellen to Taylor Swift and Rebel Wilson.
Star Wars: The Rise Of Skywalker (December 20)
Episode IX of the Star Wars saga isn't getting too much specific Oscar buzz. But there are some who believe it could if it's even decent, get a sort of honorary nomination for Best Picture in recognition of the series as a whole.
Little Women (December 25)
We'll wrap up with Little Women, which may be the biggest Oscars heavyweight of the bunch. Greta Gerwig (who directed Lady Bird) is at the helm, with Meryl Streep, Emma Watson, Timothée Chalamet, and Saoirse Ronan leading a wonderful cast. It will frankly be shocking if this doesn't earn a Best Picture nomination.
We're always on the lookout for writers/presenters/videographers and photographers. If you think you have what it takes to join the writing team. Get in touch!
http://www.popscoop.org/joinus/
Twitter
Join us on Facebook