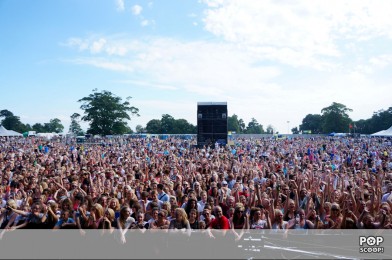 Last Saturday night I was sitting on the floor, outdoors, in a music arena, by the water in Faliro, Athens with a beer by my side and not a care in the world. I am about to dance and sing with thousands of people to the rhythms of rock legend, Iggy Pop. I noticed a feeling, the same feeling I always get when I am part of a large crowd at a music festival. Good vibes take on a completely different meaning during long warm summer moments like these. I have been travelling to summer music festivals abroad on and off over the past 8 years and it is an experience I am literally hooked on.
My first adult, after-motherhood summer music festival experience came in 2012. Over a year since I became a mum so I was finally actually ready to leave my baby for a few days and fly to Brussels to go to Rock Werchter with my man and a few friends. It's a festival held in a massive park in the Flemish region of Belgium and we were there for Pearl Jam, a 90s rock band I was introduced to in my teens by my best friend. Watching them perform live is an experience I will never forget, as was the sea of 80,000 people simultaneously jumping to Jack White's Seven Nation Army.
Seeing big names on a big stage is still a surreal experience for me. My friend and I literally rubbed our eyes when we saw Iggy Pop enter the stage on Saturday. I was completely blown away by Iron Maiden's gig last year and I will never forget the shivers down my spine when Thom Yorke opened his mouth and started singing. I feel blessed to have seen Linkin Park perform for the last time.
The atmosphere at big festivals is unlike anything I have ever experienced. Charged with positive vibes, summer festivals carry an unreal- almost tangible energy I truly believe can only stem from something as uniting as music. There are no bad feelings in places such as these and contrary to belief, perhaps an archaic one, I have never witnessed a fight or any violence for that matter, even though a serious number of people drink serious amounts of alcohol during these festivals that often include overnight camping. So it's easy to get drunk and stumble into your tent.
'Living in the now' is thought to be one of the truest ways to help achieve a calm, fulfilling and happy existence. During the summer music festivals I have attended I have found this to be true. Cares, worries, anxieties all melt away when you're among friends, dancing under a sky full of stars with your favourite music playing in the background, live and loudly. For a few moments, the world is a beautiful place. I can't wait to start taking my boys with me when they're a bit older. It'll be my little piece of wisdom that I pass onto them x
Read more from George's mummy
Hello! I'm Eleni.
Writer. Amateur photographer. Small and curvy mama. Blogger. Chronic procrastinator. I like t-shirts with holes in them and I have messy hair.
There's a bunch of stuff I like to do during my days living on the island of Cyprus.
And it's all done with music.

Posted Under
Twitter
Join us on Facebook