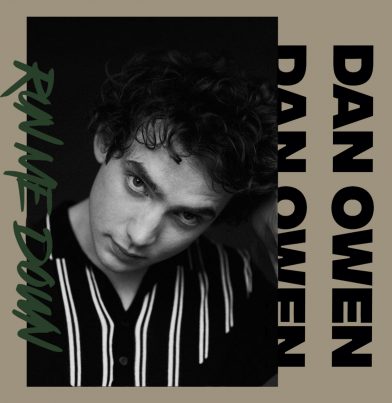 Dan Owen has released his brand new single 'Run Me Down'. The new song finds Dan making a bold return and is the first taste of new music since the release of his highly acclaimed debut album Stay Awake With Me last year.
Building on the sound from his debut album he brings a new roots-rock direction to his unmistakable jaw-dropping vocal abilities.
The song reflects Dan's development and journey, from the early days of playing pubs in his Shrewsbury hometown to becoming an international touring artist.
Having played across the world with the likes of Jake Bugg, Kaleo, Birdy, Alice Merton and Imelda May and completing numerous sold out headline tours across the UK, Europe and US, he has gained new perspectives, independence and direction along the way.
The 'Run Me Down' video finds Dan putting a dash of Hollywood into his Shrewsbury roots and captures an intense captivating road trip through the English countryside.
As one of the UK's most exciting, highly praised and distinctive voices, Dan's music has now clocked up over 30 million streams on Spotify alone. He has received great support from both Radio 1 and Radio 2 and massive critical acclaim.
ACCLAIM FOR DAN OWEN
"The owner of a sonorous blues voice, he is a sensitive songwriter who has turned real-life experiences
— of drug use and an accident that ended his dream of a carpentry career — into anthemic folk-rock."
Sunday Times Culture
"A strong soulful voice and a set of songs that will easily attract the phone-torch wavers at festivals… he's going to make a name for himself."
Daily Express
"One of the UK's most promising new voices"
Metro
"Dan Owen has a voice quite beyond his years, is a versatile guitarist and an electrifying live act as well"
The Independent
"Dan Owen has the voice from a soul who has lived a million years and experienced every element of life in its fullest"
TMRW
"Dan straddles swooning soul and throaty blues"
Blues & Soul
"Singer-songwriter with a soaring high altitude voice"
Fred Perry Subculture
Pop Scoop founder and editor. Ex showbiz/tech editor at the Cyprus Mail. Former sub-editor at Archant. Former art director Sky TV. Co-founder of Kool Magazine and freelanced for the BBC, Channel 4, Warner Bros and the Cyprus Broadcasting Corporation.

Posted Under
Twitter
Join us on Facebook