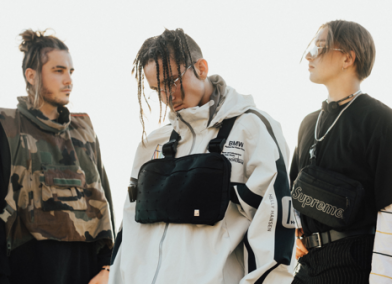 LA band Chase Atlantic have debuted, 'HER', the first single from their upcoming sophomore album. The new track is complete with engaging beats that reflect the band's cool, confident delivery and deft ability to blend and bend the rules of pop music. The accompanying music video is also out today, which explores the dynamic between perception vs. reality and the struggles that young people face in today's digital age.
Hot on the heels of their Don'T Try This EP, and with the release of their much-anticipated second full-length on the way, 2019 looks to be Chase Atlantic's biggest year yet. Their new record, PHASES, will be released on Friday, June 28th via BMG/MDDN. The 12-track effort finds the three-piece operating at the height of their powers, with stellar tracks that showcase the wide-ranging breadth of their abilities to reveal a darker side of their existence. The album is available for pre-order, and the official tracklisting is included below as well.
"We made this album because we wanted to drastically pivot the angle in which pop culture is viewed and ultimately digested," says lead vocalist, Mitchel Cave. "This album feels as though it is truly a work of astronomical measures. It's the first time we were able to honestly and openly hone into something so monumentally special and raw without compromising even an inch of our integrity as artists. We've developed a completely new sound within a matter of months that has never been tapped into before. Chase Atlantic is now dwelling within a realm of its own; it's both scarily isolating and blissfully euphoric at the same time. Welcome to a whole new era."
Chase Atlantic will also be embarking on a massive North American headline tour this summer, presented by Live Nation's Ones To Watch and The Noise. The 29-date run begins and ends on the East Coast – launching in Philadelphia, PA on Friday, June 14 and wrapping in Silver Spring, MD on Thursday, July 25. Up-and-coming artist, Lauren Sanderson, will provide direct support on all dates. Half the shows in major cities are already coming close to selling out, including The Regent Theater in Los Angeles, House of Blues in Chicago, and Webster Hall in New York City. Don't miss seeing Chase Atlantic live – tickets are on sale now and can be purchased on the band's website.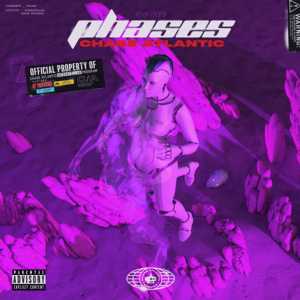 PHASES Track Listing:
1. INTRO
2. ANGELS
3. PHASES
4. LOVE IS (NOT) EASY
5. HER
6. NO RAINBOWS
7. HEAVEN AND BACK
8. STUCKINMYBRAIN
9. EVEN THOUGH I'M DEPRESSED
10. TOO LATE
11. I NEVER EXISTED
12. I DON'T LIKE DARKNESS
Chase Atlantic Headline Tour Dates:
6/14 – Philadelphia, PA @ Theatre of Living Arts / SELLING FAST
6/15 – Pittsburgh, PA @ Rex Theater / SELLING FAST
6/17 – Cincinnati, OH @ Bogarts
6/18 – Nashville, TN @ Exit / In / SELLING FAST
6/19 – Charlotte, NC @ The Underground / SELLING FAST
6/21 – Atlanta, GA @ Buckhead Theatre / SELLING FAST
6/22 – Ft. Lauderdale, FL @ Culture Room / SELLING FAST
6/24 – Dallas, TX @ House of Blues / SELLING FAST
6/25 – Austin, TX @ Scoot Inn
6/27 – Phoenix, AZ @ Crescent Ballroom / SELLING FAST
6/28 – Los Angeles, CA @ Regent Theater / SELLING FAST
6/29 – Sacramento, CA @ Ace of Spades
7/01 – San Francisco, CA @ August Hall
7/02 – Portland, OR @ Crystal Ballroom
7/03 – Seattle, WA @ Neptune Theatre
7/05 – Salt Lake City, UT @ The Depot
7/06 – Denver, CO @ Summit Music Hall
7/08 – Tulsa, OK @ Cain's Ballroom
7/09 – Lawrence, KS @ The Granada
7/11 – Omaha, NE @ The Waiting Room
7/13 – Minneapolis, MN @ Varsity Theater
7/15 – Chicago, IL @ House of Blues / SELLING FAST
7/16 – Indianapolis, IN @ Deluxe at Old National Centre
7/18 – Columbus, OH @ Newport Music Hall
7/19 – Detroit, MI @ St. Andrews Hall
7/20 – Toronto, ON @ The Opera House / SELLING FAST
7/22 – Boston, MA @ Paradise Rock Club / SELLING FAST
7/23 – New York, NY @ Webster Hall / SELLING FAST
7/25 – Silver Spring, MD @ The Fillmore
Pop Scoop founder and editor. Ex showbiz/tech editor at the Cyprus Mail. Former sub-editor at Archant. Former art director Sky TV. Co-founder of Kool Magazine and freelanced for the BBC, Channel 4, Warner Bros and the Cyprus Broadcasting Corporation.

Posted Under
Twitter
Join us on Facebook