In 1978, after having sold millions of records and become one of the biggest international artists of the 1970s, Cat Stevens decided to step out of the rock star spotlight and walk away. That year, he was to release his final album under that name.
While Stevens' legions of fans were saddened by the news, along with the musicians who had played with him on record and stage, the singer himself was exhilarated by the prospect of moving on. "It was like going back to my original nature," he reflected at the time. "Back to wide-eyed childhood again."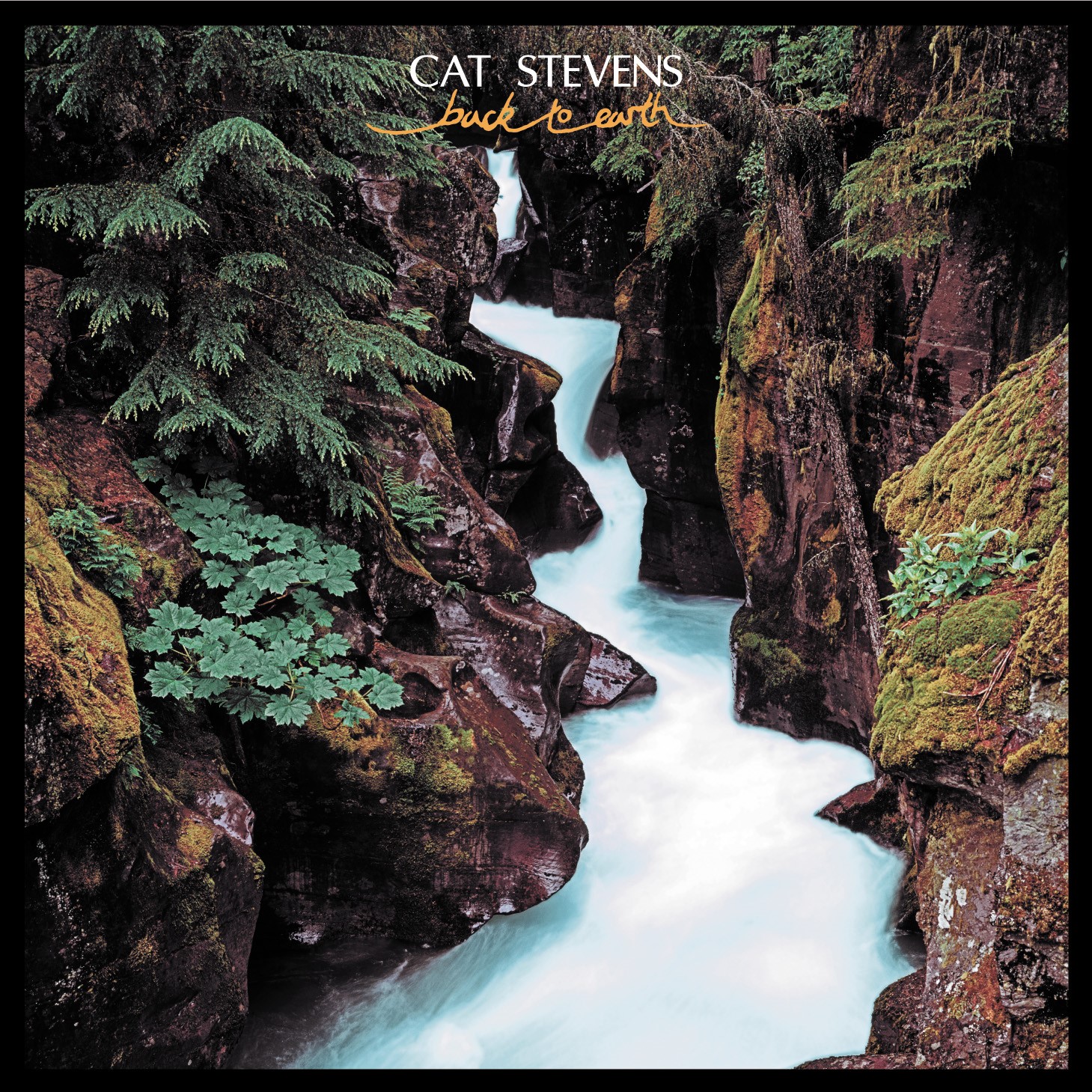 The appropriately-titled Back To Earth was his parting gift: an album that saw the London-born singer saying farewell to his fans, while obliquely explaining his decision to quit in songs such as 'Last Love Song' and 'Just Another Night'.
"What's going on behind the appearance of stardom or the stage itself can be a completely different world," he says now, "and that's what it was a lot of the time. I kept my sanity and I kept my eyes open."
In 2019 Back To Earth is to be reissued in various formats on Cat-O-Log Records/BMG, including a deluxe boxset featuring the original album (remastered at Abbey Road), along with demos, unreleased tracks, and material from UNICEF's 1979 Year Of The Child concert, the singer's last live performance as Cat Stevens.
The release marks the first in a series of reissues and expanded editions that will cover Yusuf / Cat Stevens' entire recording career, spanning a remarkable five decades.
Upon its original release, Back To Earthreceived rave reviews. "Cat has come up with the kind of quality album that originally made him a superstar," declared the London Evening News. "Just one knockout song after another." Billboard meanwhile applauded the album's "tender, folksy ballads [and] up-tempo and spirited pop tunes". Hot Press hailed it as "a lush and intricately woven tapestry of fine melodies…really a return to form."
Cat Stevens had been thinking long and hard for some time about quitting his music career. Aside from general disillusionment with fame, the singer had experienced a spiritual epiphany after being caught in a rip current and nearly drowning when swimming in the Pacific Ocean three years earlier. Crying to the heavens, "If you save me, I'll work for you," he was rescued by a gentle wave which carried him back to the shore.
What he calls his "gradual awakening" and decision to become a Muslim in 1977, changing his name to Yusuf Islam, was sparked by his brother gifting the singer a copy of the Quran for his 27th birthday. "I had discovered a new way to view the universe," he explained back then. "Like a kid who had travelled by spiritual rocket to an exciting new world."
"There are many intriguing messages in the songs and lyrics of this album; 'The Artist' has no words, because I couldn't find the word to praise the Creator of this incredible universe enough; 'Daytime' gives a sense of the innocence I'd rediscovered; finally, 'Never' is befittingly the last track and is justifiably full of hopeful feelings."
Back To Earth was indeed a remarkable return to form, reuniting Stevens with Paul Samwell-Smith, the producer of his landmark, multi-platinum albums Tea For The Tillerman (1970) and Teaser And The Firecat (1971), as well as continuing his creative partnership with long-time guitarist Alun Davies.
Musically, the album was a blend of the acoustic balladeering and spiritually-questing style that had made the singer a worldwide star, along with more distant echoes of his years growing up as Steven Demetre Georgiou in London's West End. Tracks such as 'New York Times' and 'Randy' recalled the influence upon him of the UK capital's theatre land, and – since parts of the album had been recorded in New York City – Broadway.
"There was this other side of me which was the sort of musical composer," he remembers. "I loved musicals and I was surrounded by them where I lived. So, I had Bernstein in my blood."
Long overdue for re-evaluation, Back To Earth is a brilliant and fascinating album capturing Yusuf/Cat Stevens at a defining point in his life.
"Now," as he said at the time of his departure from the music world, "I've come down from the stars."
BACK TO EARTH: SUPER DELUXE EDITION
CD ONE: Back To Earth
The original 1978 album remastered from original analogue tapes to stunning effect at Abbey Road Studios
1. Just Another Night
2. Daytime
3. Bad Brakes
4. Randy
5. The Artist
6. Last Love Song
7. Nascimento
8. Father
9. New York Times
10. Never
CD TWO: Return To Earth: The Original 2001 Stereo Master.
1. Just Another Night
2. Daytime
3. Bad Brakes
4. Randy
5. The Artist
6. Last Love Song
7. Nascimento
8. Father
9. New York Times
10. Never
CD THREE: Distant Planets: Unearthed Gems.
Back To Earth live tracks, rare demos and two beautiful, completely unheard recordings.
1. Toy Heart (Previously Unreleased)
2. Butterfly (Previously Unreleased)
3. Just Another Night (Demo) Previously Unreleased
4. Last Love Song (Demo) Previously Unreleased
5. Bad Brakes (Instrumental) Previously Unreleased
6. New York Times (New Mix) Previously Unreleased
7. Nascimento (Instrumental) Previously Unreleased
8. Daytime (Live 2017)
9. Just Another Night (Live 2016)
10. Last Love Song (Live 2014)
11. Never (Live 2013)
12. Bad Brakes (Live 2011)
CD FOUR: Alpha Omega (A Musical Revelation)
Completion of the circle. Yusuf helps his brother David realise his own musical ambition by producing the 1978 album Alpha Omega, featuring the much loved 'Child For A Day'
1. Universe
2. I Who Am I
3. Paradise
4. Inventions
5. I See That Face
6. Child For A Day
7. Sing, Love Is Everywhere
8. Alpha Omega
9. Music Is The 7th Wonder
10. Dreamer
11. World
12. Listen To Me
13. I Believe
CD FIVE: UNICEF Year Of The Child Concert at Wembley Arena 1979.
The last love song. Yusuf performs, what he believes will be his final farewell at UNICEF's 1979 Year Of The Child charity concert at London's Wembley Arena.
1. The Wind with introduction from Paul Gambaccini
2. On The Road To Find Out
3. Just Another Night
4. Daytime/Where Do The Children Play?
5. Father & Son
6. Morning Has Broken (With The Belmont Junior School Choir)
7. Peace Train
8. Child For A Day (With David Essex And Richard Thompson)
Blu-ray ONE: UNICEF Year Of The Child Concert at Wembley Arena 1979 footage + High Res Original Album remastered
LP ONE: Original Album Remastered
LP TWO: UNICEF Year Of The Child Concert at Wembley Arena 1979
+ 50-page hardcover book featuring all new interviews and liner notes by Tom Doyle with contribution from Paul Gambaccini
+ replica original press pack, photos, fanzine, posters and more
BACK TO EARTH: DELUXE EDITION
CD ONE: Back To Earth
The original 1978 album remastered from original analogue tapes to stunning effect at Abbey Road Studios
1. Just Another Night
2. Daytime
3. Bad Brakes
4. Randy
5. The Artist
6. Last Love Song
7. Nascimento
8. Father
9.<