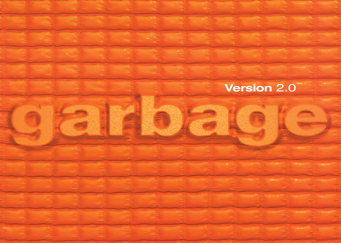 Garbage have announced the release of the 20th anniversary edition of their legendary second album Version 2.0.
Released on Stunvolume/[PIAS] on 22nd June, Version 2.0 has been remastered for the 20th anniversary and the package features the whole original album, as well as ten B-sides from the era. The standard remastered album is available on CD or orange 2LP, while the deluxe edition with bonus tracks is available in a very special 3LP package with poster and stickers, or as a double CD. Both the standard edition and the deluxe edition will also be available digitally to purchase or stream.
The typically visceral Lick The Pavement is the first offering from the reissue and is out today. Listen below.
"Lick The Pavement" by Garbage. Now available for purchase: http://smarturl.it/LickThePavement 20th Anniversary reissue of "Version 2.0" out June 22nd, pre-order here: http://smarturl.it/GarbageV2.0
Upon its initial release in May 1998, Version 2.0 charted at Number 1 and was certified double platinum in the UK with over 500,000 sales. The record went on to sell over 4 million copies worldwide. Version 2:0 was also nominated for four Grammys including Album Of The Year and three MTV Europe Awards.
It produced 5 top 20 singles in the UK alone, including the Top 10 singles Push It and I Think I'm Paranoid.
Speaking about the enduring legacy of the record, the band's drummer and co-producer Butch Vig explains:
"Version 2.0 is the sound of a band growing up, evolving, and more than anything, gaining confidence. When we started recording, we made a conscious decision to not re-invent ourselves, but rather take everything we learned from our debut album and filter it through the new digital technology we were grappling with. Sonically, the album has moments of razor sharp clarity and soft beauty. Indeed, it's possibly our best album".
Garbage will be playing a series of live dates in support of the Version 2.0 reissue, including two headline shows at London's Brixton Academy on the 14th and 15th of September. The shows will see the band perform the classic album in full, as well as a number of B-sides included on this release. Full dates for the tour are listed below.
Shirley Manson recently won the NME's prestigious 'Icon' award at their Brixton Academy ceremony in February. A suitably fitting tribute to one of rock's great pioneers and provocateurs, the award serves as further indication of the impact Garbage have already left in the alternative rock landscape and on the mainstream.
Album Tracklist:
1. Temptation Waits
2. I Think I'm Paranoid
3. When I Grow Up
4. Medication
5. Special
6. Hammering in My Head
7. Push It
8. The Trick Is to Keep Breathing
9. Dumb
10. Sleep Together
11. Wicked Ways
12. You Look So Fine
B-sides (deluxe formats only):
1. Can't Seem To Make You Mine
2. 13x Forever
3. Deadwood
4. Get Busy With The Fizzy
5. Soldier Through This
6. Thirteen
7. Lick The Pavement
8. Medication (Acoustic)
9. Tornado
10. Afterglow
September UK Tour Dates:
4 – Edinburgh, Edinburgh Festival Theatre
5 – Glasgow, Barrowlands
7 – Bristol, St. Phillips Gate Arena
8 – Birmingham, Digbeth Arena
9 – Manchester, Academy 1 Manchester
11 – Nottingham, Rock City
12 – Newcastle, Northumbria SU Institute
14 – London, O2 Academy Brixton
15 – London, O2 Academy Brixton
Pop Scoop founder and editor. Ex showbiz/tech editor at the Cyprus Mail. Former sub-editor at Archant. Former art director Sky TV. Co-founder of Kool Magazine and freelanced for the BBC, Channel 4, Warner Bros and the Cyprus Broadcasting Corporation.

Posted Under
Twitter
Join us on Facebook