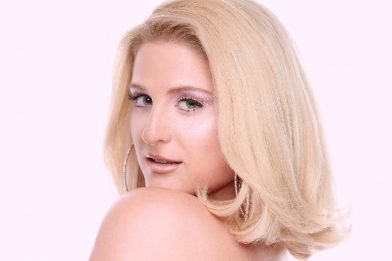 Today, Grammy Award-winning singer, songwriter, and multi-instrumentalist Meghan Trainor returns with her brand new single "No Excuses," available worldwide now! Get it HERE
It's the first glimpse of what's in store from her third full-length offering and one of the year's most anticipated blockbuster releases—coming soon.
Trainor wrote 'NO EXCUSES' with songwriter JKash and Andrew Wells. The song is produced by Andrew Wells with additional production by the artist herself. The single tempers swaggering bass lines, bright guitars, and widescreen synths with an instantly infectious call-and-response. The boisterous production underscores a deeper message encoded in the hook, "Your mama raised you better than that."
"I love how so many women are standing up for what's right," says Trainor. "I wanted to write us all a powerful anthem. Sometimes, people talk down to me, because I've only been doing this for four years, so I wrote this song. It's my modern version of 'R-E-S-P-E-C-T.' It's all about equality and being kind."
Complementing this upbeat and undeniable anthem, she also shared the single's official music video, shot by Colin Tilley. The high-energy visual brings the words to life as the songstress owns the screen more confident and charismatic than ever.
Watch it on VEVO.
"No Excuses" available at Spotify: http://smarturl.it/NoExcusesMT/spotify iTunes: http://smarturl.it/NoExcusesMT/itunes Amazon: http://smarturl.it/NoExcusesMT/amazonmusicbuy Apple Music: http://smarturl.it/NoExcusesMT/applemusic Google Play: http://smarturl.it/NoExcusesMT/googleplay Video Directed by: Colin Tilley Video Produced by: Jamee Ranta Meghan Trainor online: https://twitter.com/Meghan_Trainor https://www.instagram.com/meghan_trainor https://www.facebook.com/meghantrainorsongs https://meghan-trainor.com (C) 2018 Epic Records, a division of Sony Music Entertainment
If happiness had a soundtrack, it would be this album. Trainor triumphantly emerged from a terrifying second vocal cord surgery, four months without speaking, and debilitating anxiety into a fiery and focused force of nature. Empowering herself through self-love and care, she bottles that energy within new music. Recorded primarily with producer Wells, it would be a family affair. On every anthem, she enlisted a choir—comprised of her mom, dad, brothers, and fiancé—to add backing vocals. It's undoubtedly her biggest, brightest, and best body of work to date.
Stay tuned for more from Trainor very soon.
Pop Scoop founder and editor. Ex showbiz/tech editor at the Cyprus Mail. Former sub-editor at Archant. Former art director Sky TV. Co-founder of Kool Magazine and freelanced for the BBC, Channel 4, Warner Bros and the Cyprus Broadcasting Corporation.

Posted Under
Twitter
Join us on Facebook