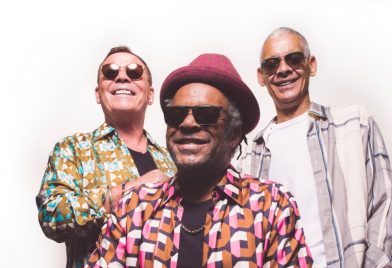 With their new album 'A Real Labour Of Love' UB40 Featuring Ali, Astro & Mickey are on course for their highest chart position in 25 years.
According to The Official Charts Company the new album, released last Friday, is set to be the highest new entry in this weeks chart, and will become the legendary reggae band's highest charting new album since their 1993 No.1 'Promises And Lies'.
UB40 Featuring Ali, Astro & Mickey performed their Radio 2 playlisted single 'She Loves Me Now' on BBC1's 'The One Show' last Friday, watchhere. The album – the latest in the iconic 'Labour Of Love' series which stretches back 35 years – was Radio 2's 'Album Of The Week' and received a 4-star reviews in the Daily Mail and Daily Star who said it "crackles with the energy of their classics."
UB40 Featuring Ali, Astro & Mickey will headline the Royal Albert Hall on March 19th as part of the Teenage Cancer Trust series of gigs. For 'An Evening Celebrating The Very Best In British Reggae' they will be joined by Hollie Cook, Three The Hard Way – Brinsley Forde MBE (Aswad), David Hinds (Steel Pulse), Dennis Bovell (Matumbi) – and special guest David Rodigan MBE.
As founding members of Britain's biggest reggae band UB40, singer Ali Campbell, second vocalist Astro and keyboardist Mickey Virtue topped the UK singles chart on three occasions and sold 70 million records as they took their smooth yet rootsy musical blend to all corners of the globe. Now with 'A Real Labour Of Love' the trio give us a fresh take on the legendary series of albums, putting the focus primarily on reggae tracks from the 1980s.
Between 1983 and 1998 UB40 produced three 'Labour Of Love' albums, bringing hits such as Eric Donaldson's 'Cherry Oh Baby', Lord Creator's 'Kingston Town' and Johnny Osbourne's 'Come Back Darling' to a new, global audience. They also topped the charts on both sides of the Atlantic with their reggae cover of Neil Diamond's 'Red Red Wine'.
And now 20 years later Ali, Astro and Mickey are revitalising the concept by exploring the tunes of a later golden age, 'A Real Labour Of Love' sees the group explore the songs that defined reggae in the Eighties. The concept isn't a rigid one: Stevie Wonder's 'A Place In The Sun' is a Motown classic from 1966, and there are numbers from the late Seventies in Dennis Brown's sublime 'How Could I Leave' and Culture's 'International Herb'. But most of the tracks on 'A Real Labour Of Love' are from the Eighties, a decade that saw dancehall reggae enter the mainstream.
Recorded and mixed at Dean Street and RAK Studios, 'A Real Labour Of Love' was produced by Ali, whose instantly recognisable voice is augmented by the 'sing-jay' vocal style of Astro. The latter takes the lead on six of the album's 16 tracks, placing the two singers at the helm of an 11-piece band. Sadly, 'A Real Labour Of Love' also marks the passing of long-serving trombonist John Johnson. A former member of Simply Red who joined forces with Ali seven years ago, John played on the album but passed away shortly after the recording. The album is dedicated to him.
The unique artwork for 'A Real Labour Of Love' by celebrated American contemporary artist Mark T Smith was specially commissioned for the release. A first edition print, signed by the artist and the band, is being auctioned with proceeds going to the Teenage Cancer Trust.
UB40 Featuring Ali, Astro & Mickey have partnered with Eminent Life to create a limited edition 'Red Red Wine' Bordeaux Supérieur. A blend of Merlot and Cabernet Franc grapes, 'Red Red Wine' – "…a rich wine with fine tannins and attractive fruits…there is a jammy character to the ripe fruit and generous tannins" Wine Enthusiast – is now available in large formats (magnums and double magnums) as well as traditional bottles from www.eminent-life.com/UB40
Pop Scoop founder and editor. Ex showbiz/tech editor at the Cyprus Mail. Former sub-editor at Archant. Former art director Sky TV. Co-founder of Kool Magazine and freelanced for the BBC, Channel 4, Warner Bros and the Cyprus Broadcasting Corporation.

Posted Under
Twitter
Join us on Facebook