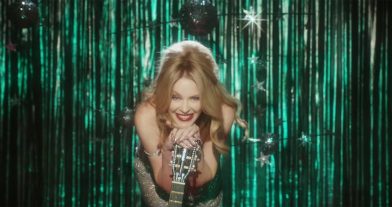 Kylie's new video for her single 'Dancing' somehow re-imagines Ms Minogue in collaboration with Dolly Parton on the set of "The Day of the Dead" – with a depiction of a 1970's Nashville motel room thrown into the mix.
Official video for 'Dancing' from Kylie's upcoming album 'Golden' released 6/4/18. Pre-order: https://kylie.lnk.to/goldenID Stream Download: https://kylie.lnk.to/dancingID Directed by Sophie Müller Produced by Jacob Swan Hyam Follow Kylie http://www.kylie.com/ https://www.facebook.com/kylieminogue/ https://www.instagram.com/kylieminogue https://twitter.com/kylieminogue http://vevo.ly/OgEAB3
The film, directed by Sophie Muller, was shot over 2 days at London's Bush Hall, where all of the above was somehow brought to life – including a dance with death.
The video also displays Kylie's talent for re-appropriation as it features a £12 guitar which director Sophie found in a junk shop – echoing the legendary 50p hot-pants that came to define the video for 'Spinning Around'. Of course the guitar was customised with hundreds of amazing crystals but Kylie delights in the art of making do and the juxtaposition of expensive and cheap, and was delighted to find a guitar small enough to be the perfect fit for her petite frame.
Dancing' was chosen as the first single for many reasons, not least that it brilliantly illustrates the theme of the album, much of which could be described as cathartic. The single itself presents the view that life isn't always a bed of roses so we should enjoy the sparkling moments when we have them. As Kylie herself says: "Life's all just moments which all join up – some of them are great, and some of them are less than sparkling – but ultimately I wanted this video to reflect the celebratory nature of the song".
Learning the choreography, which was based on an interpretation of line-dancing, presented a slight challenge to the normally adept Kylie as it involved a completely different style of movement. Kylie says; "I always thought I could learn routines quickly but this was different. However, by the time I had to dance with the Grim Reaper at the end I had mastered it. And if that's not a funny allegory for life I don't know what is!".
'Dancing' is out now. Kylie's forthcoming album 'Golden' will be released on 6th April 2018 via BMG. Full tracklisting for 'Golden' below:
1. Dancing
2. Stop Me From Falling
3. Golden
4. A Lifetime To Repair
5. Sincerely Yours
6. One Last Kiss
7. Live A Little
8. Shelby '68
9. Radio On
10. Love
11. Raining Glitter
12. Music's Too Sad Without You (with Jack Savoretti)
Pop Scoop founder and editor. Ex showbiz/tech editor at the Cyprus Mail. Former sub-editor at Archant. Former art director Sky TV. Co-founder of Kool Magazine and freelanced for the BBC, Channel 4, Warner Bros and the Cyprus Broadcasting Corporation.

Posted Under
Twitter
Join us on Facebook