It's been exactly 50 years since the famous Summer of Love and the city at its epicentre – Liverpool – is celebrating with 50 Summers of Love, a season of over 60 specially curated cultural, artistic and musical events featuring two newly announced shows: Gary Numan and Brian Wilson.
These two prestigious shows take place back to back at the brand new state of the art Exhibition Centre Liverpool on Thursday 27 & Friday 28 July.
Headlining Thursday is the father of British synth-pop Gary Numan. Having just signed a brand new record deal and with a new album in the works his show will be a celebration of his epic career spanning almost 40 years and a jaw-dropping 21 studio albums not to mention the promise of some new material.
Support comes from original Ultravox frontman and avant-garde electronic hero John Foxx with his exciting current project John Foxx and The Maths.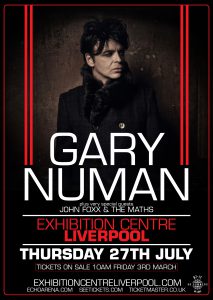 Playing on Friday and needing no introduction whatsoever is original Beach Boy, Brian Wilson.
Famed for illuminating the 60's with an infectious blend of pop, psychedelia, complex melodies and tight harmonies, Brian Wilson directed the Beach Boys away from generic surf stalemate to the soaring pop/rock masterpiece that is Pet Sounds. This is the album that changed the rules of popular music forever and influenced every musician who heard it including The Beatles.
With only three shows scheduled in the UK this year, this is the very last chance to see Pet Sounds performed live by the great man himself. As an extra parting gift this last performance will include a very special rare cuts and greatest hits finale.
In support is Beach Boys co-founder Al Jardine and The Flames and laterally Beach Boys singer and guitarist Blondie Chaplin.