DNCE – the double-platinum selling four-piece band made up of Joe Jonas, Cole Whittle, JinJoo and Jack Lawless, appear on the cover of Fault Music Magazine ahead of new single 'Toothbrush' (impacts September 2nd) and debut album out later this year. The band's frontman Joe Jonas discusses life in a band, growing up in the public eye and using music to express himself.
Joe on forming a band:
'At first, we had a bit of a writer's block and we couldn't quite figure out the vibe that we wanted. And finally, we worked with new producers from Sweden and kind of just broke the mold. It all happened very quickly and we're really thrilled with the reaction and how things have happened so far.'
Joe on creating new music:
'There are moments when it's just me and the writers or the producers. And other times, there are the recording sessions and you've got the whole band in there, all collaborating. We can write anywhere, that's why I love touring cause there's always an opportunity to create when you're traveling.'
Joe on using music as an outlet:
'When you can really pull from personal experience and find a way to showcase it in a relatable way, it's always a rewarding feeling. If you're going through stuff and have any sort of creative outlet, you might as well put it into good use.'
Joe on fame:
'I think fame is something that kind of comes with what you do. Some people handle it differently. I grew up around it, so it hasn't always been an easy thing for me, but you learn to adjust and adapt to how you're comfortable. Ultimately, there are things that you're gonna be cool with and things that are gonna be tough to get over. But at the end of the day, if you remember where you come from and how it can all go away so easily, it makes it a little bit easier to handle.'
'Toothbrush' is the follow up single to their huge top 5 smash hit 'Cake By The Ocean' which has been streamed over 220 million times worldwide and was #1 on the UK Airplay Charts for 4 weeks in a row and to date, the video has had over 170 million views. The band will be in the UK this month to perform their first headline show at London's O2 Islington Academy on 19th August which is SOLD OUT. That same weekend the band will perform at London's iconic G-A-Y (20th August), plus V Festival (20th/21st August).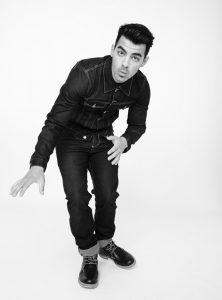 'Toothbrush' will impact on September 2nd and is taken from DNCE's debut EP 'SWAAY' which is available to by now on iTunes.
Link: http://fault-magazine.com/2016/08/preview-dnce-on-the-music-cover-of-fault-issue-24/
Issue 24 of Fault Magazine will be out next month but is available to pre-order now.
Photography: Joseph Sinclair
Stylist: Krishan Parmar
Make up: Lauren Griffin
Hair: Natalie Viner