V Festival 2016, sponsored by Virgin Media, will be graced by global chart royalty this summer as Justin Bieber and Rihanna dominate the headline slots across the legendary festival weekend.
V Festival's 21st birthday celebrations will take place at the two festival sites in Hylands Park, Chelmsford and Weston Park, Staffordshire, across the weekend of the 20th and 21st August 2016. Full day by day line-up to be announced Wednesday 24 February at 10pm, on www.vfestival.com after The Brit Awards.
Performing exclusively at his only UK festival this summer, Bieber, who also shares his age with the iconic festival, will treat festival goers to his debut V Festival performance and a sneak peak of his upcoming tour, 'Purpose'. After smashing UK chart records by simultaneously holding the number one, two and three spot in the UK single charts, the Grammy winner is expected to pull the V Festival crowds in their thousands.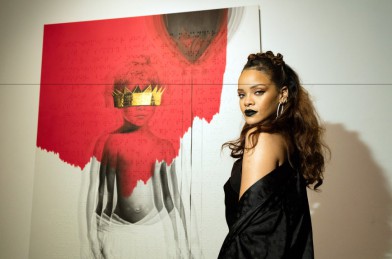 To cement the line-up with true superstar status, Rihanna is set to round off the headline bill with another electric performance as she returns to V Festival after five years. The Bajan singer will perform at both Staffordshire and Chelmsford bringing the hotly anticipated and unmissable 'Anti World Tour' to her only UK festival of the summer.
Adding to V Festival 2016's international superstar line-up will be Australian superstar songstress, Sia, and superstar DJ, David Guetta – who are both UK festival exclusives for V Festival 2016. Sia, who is world famous for her own critically acclaimed material, has also written for some of the world's biggest artists including Beyoncé, Britney Spears and even penned headliner Rihanna's hit 'Diamonds'. Global DJ phenomenon David Guetta is one of the most successful artist DJ's in UK chart history and is well-known for his energetic live shows, bringing the full-on party atmosphere and enthralling sold-out crowds across the world – this set will be unmissable.
Also performing on the Virgin Media stage are British indie rock favourites Bastille, the world's biggest girl group Little Mix, Grammy winner Jess Glynne and party starter, John Newman.
In another V Festival debut, BBC Radio 1 will host a new stage on Friday night across both Chelmsford and Staffordshire sites. Adding to this incredible new set up, the BBC Radio 1 Summer of Dance stage will bring its all new Summer of Dance line up, guaranteed to add chart-topping dance anthems, the hottest artists, and newest releases into the mix. Further details including the line up will be announced during Annie Mac's BBC Radio 1 show (7 – 10pm) on Friday 4th March.
As well as international chart-toppers, a host of homegrown British talent will also feature on the star-studded bill. Legendary Faithless return for their seventh time, while BRIT Award winners Kaiser Chiefs will bring the hits. Further British talent includes BBC Sound of 2015 winners Years and Years, singer-songwriter Jake Bugg, UK Garage legend Craig David with his TS5 set, The Voice UK and X Factor star Rita Ora, two-time Brit winnerTinie Tempah and festival favourites Example andKaty B.
Halsey will grace the festival as well as Troye Sivan,who with a unique acting, blogging and musical background under his belt, is sure to deliver an unmissable set. Bringing the rock 'n' roll will be BRIT Award winners Travis, singer-songwriter James Morrison and Joe Jonas' pop rock band, DNCE. Grammy winner Foxes, X Factor star Fleur East and legendary British-Canadian girl band All Saints will each add a pop flavour to the weekend. Soul II Soul will bring the good vibes, while 'Fester Skank' smash artist, Lethal Bizzle, DJ EZ, Sigma (DJ set), Flight Facilities, and Big Sean will bring the pounding beats and furious flow to a phenomenal V Festival 2016 line up.
Artist Facts & Stats
Justin Bieber – 3 UK number 1 singles, 1 UK number 1 album, BRIT and Grammy Award winner
Rihanna – 8 UK number 1 singles, 593 weeks in UK Top 40, 4 UK number 1 albums, 2 BRIT Awards and 8 Grammy Awards
Sia – 1 UK number 1 single, 7 UK Top 10 singles, 2 UK Top 10 albums
David Guetta – 6 UK Number 1s, 21 UK Top 10s, 3 UK Top 10 albums
Faithless – 7 UK Top 10 singles, 3 UK number 1 albums, 6 UK Top 10 albums
Kaiser Chiefs – 1 UK number 1 single, 5 UK Top 10 singles, 2 UK number 1 albums
Years & Years – 1 UK number 1 single, 3 UK Top 10 singles, 1 UK number 1 album
Jake Bugg – 2 UK Top 40 singles, 1 UK number 1 album
Bastille – 2 UK Top 10 singles, 48 weeks in Top 40, 1 UK number 1 album
Rita Ora – 4 UK number 1 singles, 8 UK Top 10 singles, 1 UK number 1 album
Tinie Tempah – 7 UK number 1 singles, 14 UK Top 10 singles, 1 UK number 1 album
Jess Glynne – 5 UK number 1 singles, 8 UK Top 10 singles, 1 UK number 1 album
Little Mix – 3 UK Number 1 singles, 8 UK Top 10 singles, 106 Weeks in UK Top 40
Katy B – 1 UK Number 1 single, 5 UK Top 10 singles, 1 UK number 1 album
Halsey – 1 UK Top 10 single
Example – 2 UK number 1 singles, 8 UK Top 10 singles, 1 UK number 1 album
Craig David's TS5 – Platinum album-selling and chart-topping international superstar Craig David bring his famous TS5 party-set.
Troye Sivan – 1 UK Top 10 album
James Morrison – 5 UK Top 10 singles, 2 UK number 1 albums
Travis – 6 UK Top 10 singles, 2 UK number 1 albums
John Newman – 3 UK number 1 singles, 5 UK Top 10 singles, 1 UK number 1 album
Foxes – 1 UK Top 10 single, 1 UK Top 10 album
Fleur East – 1 UK Top 10 single, 1 UK Top 40 single
Soul II Soul – 3 UK Top 3 albums, 2 Grammy's, 5 US Top 5 Dance singles
All Saints – 5 UK Number One singles, 2 multi-platinum albums
Flight Facilities – Top 3 album in Australia, soon to release in the UK
Big Sean – 3 Top 3 UK R&B singles, 7 Top 5 US Rap singles, 6 BET Hip-Hop Awards
Sigma – 5 UK Dance chart Top 5 singles
Lethal Bizzle – 10 UK Top 10 singles
DNCE – Debut singles went Top 10 on US Pop chart, soon to be released in the UK