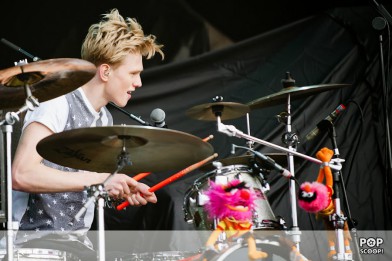 "Wake Up"!!! British pop heart-throbs The Vamps are back with a brand new single, a sophomore full-length album due 27th November, and a new soon-to-be sold out world tour. But flashback to April 2014, right before the release of the band's debut album "Meet the Vamps". . . Ever wondered how drummer Tristan Evans was feeling and what he was up to right before the boys went supernova? Then listen to this in-depth, candid, unedited & never-before-heard interview with Tristan. It's just as if you were chatting to him on the phone for 10 minutes. Minus the screaming & hyperventilating of course!
Tristan Evans spoke to us about touring, his love of the Vamily fandom, his favourite tracks from debut album "Meet the Vamps", how he balances work & personal life, and what he does in his downtime. (Top Tip: Shake Shack in London's Covent Garden features heavily!) In addition, Tristan faced our Quick-Fire Biographical Trivia Questions, with some honest & funny results! Wonder whether he still takes his latte with 3 sugars whilst watching trees go by. . .
Follow us on Twitter: @Pop_Scoop
Presented by Isaac Mace-Tessler – @IsaacM_T
With degrees in Art History and Film Studies, Isaac has experience in Hollywood and the US independent film industry, and has worked as a bookseller, lecturer and artist. He has what he likes to call "wide-as-the-horizon" taste in music and films.

Posted Under
Twitter
Join us on Facebook