Yesterday, singer, TV presenter and Britain's Got Talent Judge, Alesha Dixon, unveiled the world's biggest Disney Junior Christmas Tree, created entirely from Disney Store soft toys at St Pancras International, bringing the magic of Christmas to commuters and families. 
The spectacular 14-metre high tree is brought to life with snow falling for the first time inside the station. Every four minutes snowflakes will magically fall from the top of the tree, specifically designed to dissolve as they reach the ground without leaving a trace. Alesha will also add the final touch by placing the last toy on the tree.
Taking pride of place on the concourse at St Pancras from 12 November until 4 January 2016, the Disney Junior Christmas tree is 14 metres tall and created from over 2,000 individual soft toys of children's favourite Disney characters from the big screen and TV. A metre high Mickey Mouse sits on top of the tree, alongside toys from Disney Junior shows including: Doc McStuffins, Sofia the First, and Miles From Tomorrow.
Alesha is also set to join the Disney Junior family from February 2016 as the newest guest star in its Peabody Award-winning show, Doc McStuffins. The singer will lend her famous voice to Winnie, the antique tiger who suffers from asthma, in the imaginative animated series about a six year old girl who communicates and heals stuffed animals and broken toys from her backyard playhouse clinic.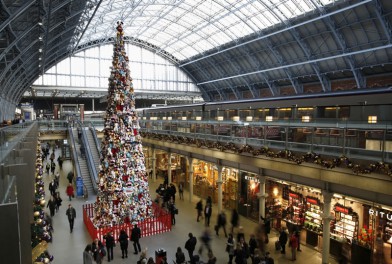 Alesha Dixon said: "I am so excited to add the last toy to the magical Disney Junior Christmas tree. I picked Doc McStuffins, from my daughter's favourite Disney show and can't wait to bring her to see the tree and falling snow inside the station.  What better way to launch the festive season than unveiling this unique and enchanting Disney Christmas tree.  It's such a special time of year and I would encourage families to come down and share in the magic of Christmas at St Pancras!"
Throughout the festive period, the tree will bring to life Disney Junior's motto, 'where the magic begins', by hosting a series of spontaneous and joyous celebrations including a Frozen sing-a-long in association with Yamaha, offering visitors the chance to perfect their renditions of  'Let It Go' as they watch the falling snow. What's more, the magic will continue long after the tree is taken down as the 2,000 soft toys provided by The Disney Store and used to create it, will be donated to KIDS, a leading charity which cares for disabled children, young people and their families.
David Levine, General Manager, Disney Channels UK & Ireland commented: "Christmas is always a magical time at Disney Junior and this year we wanted to bring the holidays to life for people of all ages. St Pancras is not only one of the busiest stations in the county, it's also one of the most beautiful. We couldn't think of a better setting to house our magnificent soft toy creation which will be surprising and delighting families over the next two months. We're also thrilled to partner with a fantastic charity like KIDS to ensure that these toys find loving homes after the last snowflake has fallen."
Nicola Shaw, CEO of HS1 Ltd (owners of St Pancras International), said: "The Christmas tree in St Pancras stands at the heart of our station and over the years has itself become a destination for visitors during the festive period. St Pancras has housed unique creations that have each articulated the joy of Christmas in their own way. This year's Disney Junior soft toy tree, with its 2,000 characters and falling snow inside the station for the first time is perhaps our most extraordinary and magical yet!"