British singer-songwriter Emma Stevens is set to release a digital-only deluxe edition of her 2014 album 'Waves' on August 21st, repackaged with 8 exclusive bonus tracks and a 14 page digital booklet featuring new photos and lyrics.
"I am so excited about the Deluxe version of my album 'Waves'. I'm thrilled that I could create something really special for my incredible fans, and I hope that people enjoy listening to them as much I a enjoyed writing them!"
There are 8 new tracks on the deluxe edition – which takes the total number to 20 – including a live ballad version of 'Gold Rush', "it's interesting just how different a song can sound when you strip it back", she explains and Emma's own take of one of her favourite songs, Elvis' 'Can't Help Falling in Love' – as first heard on Terry Wogan's breakfast show.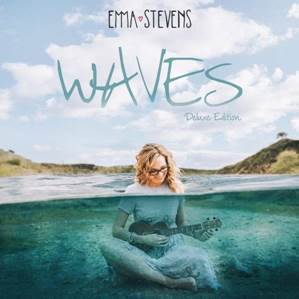 Also added to the deluxe edition are some brand new tracks, including latest single 'Never Gonna Change', 'Let me Guess' – "probably one of the most heartbreaking song's I've ever written!" comments Emma – and 'CGI', a joyful song about finding true love. "Imagine your life is colourless like a black and white movie and when that special someone comes along it suddenly springs to life like CGI" she explains. These new additions continue to cement Emma's undeniable talent as a sturdy pop songwriter.
The past year has been big for this talented multi-instrumentalist from Guildford – not only did she release her second album 'Waves', she also had her single 'Make My Day' playlisted on Radio 2, released popular singles 'Goldrush' and 'So Stop The World', took to the air to perform in an aeroplaneand completed a 12-hour buskathon for Children In Need as well as a joint headline UK tour with Blair Dunlop.
Having just returned from a writing trip to Nashville, Emma is preparing to perform at various festivals as well as her own headline shows over the summer.