The sun shone brightly on Brighton one Saturday in May as The Great Escape  celebrated its 10th Birthday, and Amazon hosted an exclusive secret gig with 'The Modfather' of British music Paul Weller. Now, Amazon Prime members can exclusively enjoy the gig from iconic former front man of The Jam, The Style Council.
Amazon presents Paul Weller LIVE, at The Great Escape saw 500 lucky fans win tickets to the top-secret gig where Weller played a set including tracks from new album Saturns Pattern (released in the UK on 18th May in digital, CD and vinyl formats) including White Sky, title track Saturn Pattern, I'm Where I Should Be as well as classic favourites Above the Clouds and  The Changingman, ahead of his UK tour which kicks off in November.
Now fans can access unseen footage from the secret gig with commentary from Weller in this exclusive Amazon Prime  which will launch for unlimited streaming on the UK's largest movie and TV streaming service Amazon Prime Instant Video today, Monday 22nd June 2015.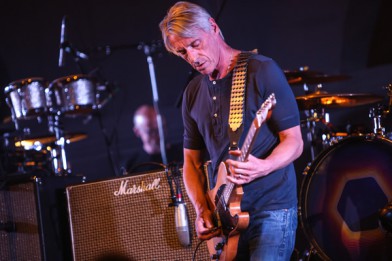 "We always get nervous, I've been nervous for 40 years or more. Whether it's a small gig or a big gig it doesn't make too much odds, it's the same nervousness," Paul Weller told Amazon Prime Instant Video just before going on stage. "It would matter of it was two people, two hundred people or twenty thousand, because it's the moment of truth when you play live. It's only you and the audience, there's no hiding before anything at all. Every time you go out to play you're always going out to prove yourself, you can't afford not to be nervous. Even though it's annoying at the time, nerves can be a good thing because nerves give you that extra little edge."
Amazon Front Row Live with Paul Weller is available for Prime members to stream through Prime Instant Video on more than 400 devices, including Fire tablets, iPad, iPhone, Xbox, PlayStation, Wii and Wii U, amongst others, and online at www.amazon.co.uk/PIV. What's more, this content is accessible both on-the-go and from the comfort of customers' homes, through Amazon Fire Phone and on Amazon Fire TV. Customers who are not already Prime members can sign up for a free trial at www.amazon.co.uk/prime.
Check out the highlights on the trailer below: