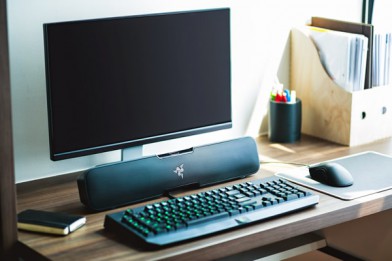 How would you like to win one of these bad boys? Razer Leviathan offers 5.1 channel Dolby surround sound for gaming, movies and Bluetooth 4.0 aptX for high-quality wireless music streaming, with dedicated subwoofer for deep bass.
The Razer Leviathan elite gaming and music sound bar provides premium quality audio for a wide range of entertainment applications, from desktop listening to home theatre sound that's perfect for gaming, movies and music.
The Razer Leviathan's 5.1 surround sound mode is ideal for gaming and movies. It also features a wireless music streaming mode via Bluetooth 4.0 for seamless music listening. The Razer Leviathan is able to deliver deep, powerful bass tones through a dedicated subwoofer, distinguishing it from other sound bars in its range that cannot produce lower frequencies as accurately.
Engineered for versatility, the Razer Leviathan can be repositioned easily for any situation – under any desktop monitor, in a living room console setup, or wherever high-fidelity sound is desired.
Rich, full-range 5.1 virtual surround sound is produced by the award winning Dolby Virtual Speakers in the Razer Leviathan. The sound bar features four finely tuned drivers (two 2.5-in. full-range drivers and two 0.74-in. tweeters) that are optimized for surround sound gaming. Regardless of source type (stereo or multichannel audio via optical input), Dolby Digital will convert audio from a sound card, console or set-top box into a virtual surround sound stage. The result is an immersive aural experience that is perfect for recreating epic in-game battle scenes or simply enjoying favorite movies scenes.
The Razer Leviathan seamlessly connects to other Bluetooth devices in wireless music streaming mode via Bluetooth 4.0 with aptX technology for audio quality virtually indistinguishable from a wired connection. With a connecting range of up to 10 meters, music can be enjoyed without the hassle of wires. The Razer Leviathan also remembers recently paired devices, allowing users to quickly connect with a single tap, and built-in NFC technology allows for ultra-fast pairing.
The Razer Leviathan delivers chest-thumping, deep impact lows by way of a powerful 5.25-in. downward firing subwoofer that is dedicated to accurate bass reproduction and is tuned to produce distortion-free lower tones. Crystal clear mids and impressive highs are delivered by the two precision-tuned, full-ranged drivers and tweeters, rounding-out the full spectrum of frequencies created by the sound bar.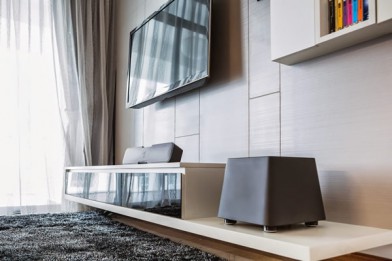 FEATURES:
• Powered by 4 expertly tuned drivers plus subwoofer
• 5.1 virtual surround sound powered by Dolby Virtual Speakers, Dolby Digital and Dolby Pro Logic® II
• Direct audio streaming from any mobile device via Bluetooth v 4.0 aptX
• Dedicated subwoofer for impressive bass reproduction
• Space-saving design for versatility
• Multiple connection methods via analog, optical or Bluetooth v 4.0 aptX
• Adjustable tilt angles (0⁰, 15⁰, 18⁰) for optimal sound
• 3 preset equalizer modes tuned for gaming, music and movies
TECH SPECS:
Sound bar
• Total power output: 30 W (15 W x 2 RMS)
• Full range drivers: 2 x 2.5 in. / 63.5 mm
• Tweeter drivers: 2 x 0.74 in. / 19 mm
• Impedance: 8 Ω
• Frequency response rate: 180 Hz – 20 KHz
• Approximate weight: 4.4 lbs. / 2 Kg
Subwoofer
• Type: Passive
• Total power output: 30 W RMS
• Full range drivers: 5.25 in. / 133 mm
• Impedance: 8 Ω
• Frequency response rate: 20 Hz – 180 Hz
• Approximate weight: 6.6 lbs. / 3 Kg
Available from Razerzone.com
To be in with a chance to win A Razer Leviathan – Elite Music & Gaming Sound bar, all you have to do is:
1) Follow @Pop_Scoop on Twitter.
2) Then Retweet:
RT & Follow 4 the chance to #WIN A Razer Leviathan Elite Music & Gaming Sound bar! Deets-> http://t.co/jstOteR1Nx pic.twitter.com/59prFxTQaF

— Pop Scoop! (@Pop_Scoop) December 4, 2014
3) You can also enter on Facebook for extra counts. Like our Facebook page and send us a message or write a comment on our page using the hashtag #RazerSoundBar
Good Luck!
T's & C's:
• The Prize is non transferable, non refundable and non negotiable. There is no cash alternative. The prize is for person use and cannot be sold under any circumstances. Sale or attempted sale will be considered grounds for cancellation.
• There is ONE prize (the "Prize") of one Razer Leviathan Elite Music & Gaming Sound bar.
• The Closing Date of this competition is Saturday 13th December at 10:00pm GMT.
• Winners will be announced shortly after.
• Winners will be chosen at random from all eligible entrants.
• The Prize Promoter will not be responsible for any inability of a prize winner to take up the specified prize.
• Entrants must be at least 14 years of age at the time of entry for the Competition.
• This competition is open to mainland UK residents only.
We're always on the lookout for writers/presenters/videographers and photographers. If you think you have what it takes to join the writing team. Get in touch!
http://www.popscoop.org/joinus/

Posted Under