Pop Scoop! caught up with O-Town's Trevor Penick recently for an in-depth chat via telephone. He spoke about the band's past successes, what they've been up to since splitting, how their long-awaited reunion came about, the musical style and sound of new album "Lines & Circles", and the band members' collective joy at now being in full creative control of their own work.
'Lines & Circles' is the band's first new material since their 2002 album O2. Working with renowned Grammy nominated vocal producer Eddie Galan, 'Lines & Circles' sees O-Town showcasing the impressive range of their songwriting ability, with tracks ranging from the R&B grooves of 'Playing With Fire', the infectious hooks of the eponymous title track and the heartbreaking soul of 'I Won't Lose'.
At the centre of the album is lead single 'Skydive' – a heart wrenching ballad boasting a towering chorus, it is the sound of a band maturing as artists. Erik-Michael from the band says "Skydive brings us back to what we are known for; a powerfully produced ballad with equally powerful performances, except this time with a unique request to our fans – "Will you take a leap of faith with us?" Watch the epic video for the single here.
The band played their first live show in the UK in over a decade at Under The Bridge in Chelsea in June. Performing to a rapturous sell-out crowd, the set was comprised of classics from their back catalogue with a wealth of new material. Jacob says 'The UK was one of the countries that really embraced O-Town and we have never forgotten that, seeing the reaction to the new material and how much the old songs still mean to people was incredible!'
Originally formed on ABC reality show 'Making The Band', which chronicled their formation and rise to fame, O-Town became the first signing to legendary music industry executive Clive Davis' newly formed J-Records. Their eponymous debut album sold 1.7 million copies, and they had two American #1 hits – Liquid Dreams and All or Nothing. They notched up a further 5 UK top 40 hits and went on to sell a staggering three million albums during their 4 year career.
After a crash course in the music industry in their early twenties, Trevor Penick, Jacob Underwood, Erik-Michael Estrada, & Dan Miller are now finally reunited as friends with a renewed passion for performing and making music together. Jacob says "With the complete support from our label, and a talented team of family and friends around us, this project already been incredibly rewarding. And we're just getting started!"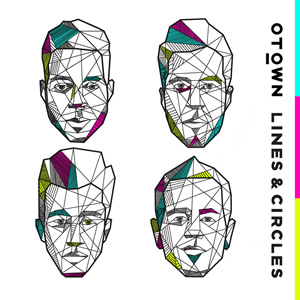 Order the album now – Lines & Circles – O-Town