What do you get when you combine Canadian chillz with Californian kewlness? Something super-CALI-fragilisticexpialidocious! Enter rising pop-artiste Cali Lights, destined to be your new fave, cray-cray, gal-pal betty.
21 year-old Canadian/LA girl Cali has long had a passion for songwriting and singing. Having quickly caught the attention of Capitol Records and other major labels, and previously worked with pop-gurus such as Roy Hamilton, she has since set up base-camp with young British producer Ed Clayton, forming writing/production project Stars & Jacks. Alongside pitching songs for the likes of Ke$ha, Rihanna, Britney Spears and Lorde, Cali and Ed have collaborated together in honing Cali's own unique sound & vibe. It's a mixture of sarcastic, bratty pop/hip-hop/EDM as well as stripped-back acoustics, with razor-sharp hooks and ubercatchy choruses, all of which will be showcased on debut EP "Night Surfing" due for release June 8th.
This is definitely only the very beginning for Cali Lights. #TipOfTheIceberg – watch out!!
***
Tell us in 5 words or less, who is Cali Lights?
A Melting Hot Popsicle.
Can you define your musical style?
I'd say Pop with some more dark/dreamy synths and organic acoustics, with a bit of Hip-Hop drums.
What can people expect from your upcoming EP?
"Night Surfing" is just something different! It takes you places, from the "party/feel good songs" to the lows. It's a bit of a collision between reality and a dreamier place.
What was the first spark that got you going musically as a child or teen?
The first time I went to an arena concert, I turned around to face thousands of people in the audience and had the chills, it's just what I wanted to do.
What was it like growing up as a teenager in LA and Hollywood? Any crazy stories?
Every day in Hollywood is crazy, that's just how it is. Hollywood is the big dream, growing up next to stars is weird, but being in music allowed me to watch and learn from people around me. It made me who I am today.
You've worked with producer Roy "Royalty" Hamilton and recorded with legendary Richie Ramone, but your closest artistic partnership is with British producer Ed Clayton, with whom you've set up writing/production project Stars & Jacks. How did this collaboration come about?
I met Ed back in London almost 2 years ago, he was working in a studio at the time and something just clicked. I know, sounds like a movie right? It's true though, he was working with some amazing people like Imagine Dragons and One Direction in the studio and he just left London! There was something so unique about his production and the mix of my commercial side, it just came together. We started Stars & Jacks when we found ourselves writing and producing so many things that'd be perfect for other Top 40 artists. If I can't do this song, maybe someone else can.
How do you start writing a song? Does a tune, a harmony, a mood or lyrics come first?
All of the above. It's always a whole new story. Sometimes I'm in the shower and come up with some melody! Many times Ed produces a song based on a vibe or feeling we want, then we usually sit around and come up with the melody and lyrics. We also love to come up with stuff on the guitar or piano. It's always exciting to hear what began as just a guitar song turn into a full production and story.
You've pitched songs to top recording artists before. If you could collaborate with any contemporary music artist/act/producer, who would you pick? What kind of song would you see yourself making together?
I would really love to work with the producer Alex da Kid, he has set whole new records with Imagine Dragons. There's something so powerful about his songs, even back when I heard "Airplanes" by B.o.B ft. Hayley Williams a few years ago. He has worked with some of the top, and he fuses musical styles in an interesting way.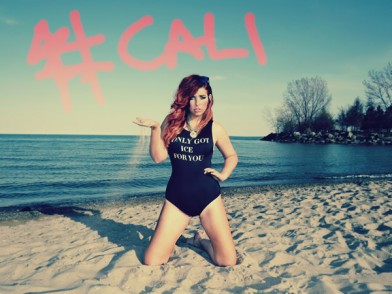 What are your thoughts about the importance of social media for today's music biz (YouTube, SoundCloud, Facebook, Twitter, Instagram)? Is there a way around it anymore these days?
Social media is everything now, you can connect right away to people. It takes 2 seconds for people to know who you are and maybe become a fan. I grew up seeing Britney Spears looking perfect at all times, but celebrities today try to show a more human side of themselves and life with their fans.
What does performing live mean to you?
It's so much fun to see people who relate to you, a song, or your story. Performing live is when the visuals in my head I've had for each song can come to life. I want you to see a 360 of what the songs are.
Do you have any rituals or routines you always do the day of / or right before going onstage?
I try to carry or wear something blue.
How do you most like to connect with your fans?
I love when they connect to my music, I love hearing from them through social media, although I can't wait to meet more in person!
After you release your EP, what's up next for Cali Lights?
You will start seeing some videos, tour dates, diaries and I'm also collaborating with some clothing brands. There are also a few surprise projects coming very soon that I can't wait to share with everyone! The exciting thing is you never really know where the waves will take you.
***
And now for some Quick-Fire Biographical Trivia Questions. . .
What's your favourite colour?
Teal.
Favourite animal? Do you have a pet?
Dolphins, maybe one day I'll have one!
What's your favourite food or meal? Do you usually eat-out, take-out, or cook yourself?
I go out to eat most of the time. I'm away from the world enough when creating, going out inspires me and gives me energy. Favourite food – Mexican.
First album you ever bought? (Was it a record/cassette tape/CD/digital download?) How old were you? Do you still listen to it?
It was a cassette tape, how vintage right? I used to love rewinding them so much. I don't have any left but the first one I had was the debut Britney Spears album.
What song do you have on constant repeat at the moment?
"Adore You" by Miley Cyrus and "Hold On, We're Going Home" by Drake. Those two songs make me feel like I'm floating, so dreamy.
Favourite film or TV series of all time?
Something retro like "Saved by the Bell".
What's the last gig/concert/or festival you went to, which you didn't perform at?
I've been spending loads of time this year writing and recording, so I can't really remember =/ Warped Tour?
Coffee or tea?
Coffee, although I should be drinking tea :P "singer problems"
Which celebrity, if you met them in person, would you turn into a total, embarrassing fangirl about?
Haha! Hmm, if I answer, I might get in trouble! Harry Styles? Shhhh…
What was the first poster you put on your wall as a young teen?
Omg, I can't remember… I changed my room and posters so often.
Your favourite item of fashion/clothing right now?
I love anything I can wear and decide to jump into a pool in! Neon Bodygloves <3
What's your essential, can't-live-without gadget?
MY PHONE. I'm always sending friends voice memos so I don't forget song ideas when I'm out!
What qualities do you value most in a man or a woman? Are they different?
So different, but I think it's what makes us so strong. I think the value I find the most beautiful in a woman or man is courage.
What's your favourite journey?
LIFE.
Who is your ultimate hero?
My producer, he's changed everything. He's made me see and find new things within me as a person and artist. I wouldn't be here right now, in this exact place today, without this project.
What is your life motto or favourite saying?
"Shoot for the moon. Even if you miss it, you will land among the stars."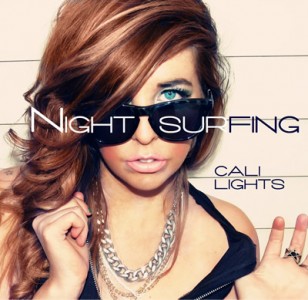 For all things Cali Lights:
Twitter: @imCaliLights
Instagram: CALILIGHTSPLEASE
www.calilightsmusic.com