Having seen the first instalment of this marvel super hero movie, I was expecting big things, as the first movie was a great start to the franchise, the eagerly awaited Captain America: The Winter Soldier did not disappoint.
We find Steve Rodgers (Chris Evans) back in his native Washington D.C trying to come to terms with the fact that everyone he knew and loved is now in their old age or dead. He is also trying to integrate into the S.H.I.E.L.D, that is until a dark conspiracy within agency emerges!
The film is fast paced and with a great supporting cast including, Samuel L Jackson (Nick Fury) and  Scarlett Johansson, returning in a much more interesting and complex role as the double-agent Black Widow.  It has some great moments, not least the chase through Washington involving Nick Fury and a whole load of bad guys trying to kill the director of S.H.I.E.L.D.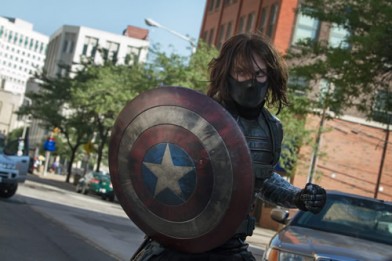 This is the second outing for Sebastian Stan (Bucky Barns/The Winter Soldier) a character who fills the film with intrigue, as we do not know what has happened to him, after he fell in the first film, and now, when he has become an assassin for the evil organisation known as Hydra! Also a great addition to the cast is Anthony Mackie as 'Falcon', providing a great ally for Evans.
All these elements and great cinematography, blend together a great film, which keeps you on the edge of your seat all the way through. It is full of action and CGI but it is backed up with great performances and an interesting story.
I thoroughly enjoyed the film and highly recommend it. Look out for Marvel's end credits Easter eggs. This time there are two extra scenes that will leave you thinking and yearning for more.