On the same night that the gargantuan Limp Bizkit headline the LCR on the Kerrang! Tour, alternative youngsters Alexander play the Waterfront studio.
There is a big gap between the two artists, of course, and it hurts when I think about the fact an event like the Bizkit coming to Norwich will never happen again, but part of me knows I'm better off here. I'm exhausted, and not in the mindset for getting my butt kicked across town.
The audience arrive in pairs, teenage and a little stoic. Alexander are known in places, but not so much here. As the night goes on and the heads and feet move, it seems as though the audience has an idea of the band, and want to know more. It's only going to take a little extra word of mouth for fans to emerge, singing the words and building on the numbers.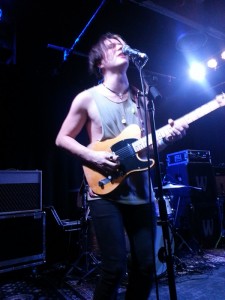 All the lads are oozing charm, and flirting very well, thanks to their sound. I find myself urging the photographer to move out of the way when he crosses to where we are watching from. They are utterly individual from each other, and my eyes move from member to member, but at the same time they seem to synchronise their movements around the stage. They certainly have confidence and maturity beyond their years, and it's surprising considering the short amount of time they have been together.
In terms of the sound, I can hear elements of subdued Biffy Clyro, and the power vocals in the choruses take me back to Kids in Glass Houses, but it's radio-friendly, and will be very popular with fans of the new British alternative music, which is thriving spectacularly at the moment. Give the single Say Hello to Nick Grimshaw, and Alexander will be huge.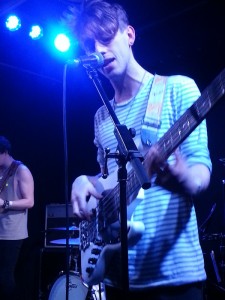 Personally, I love power choruses, and Alexander delivers them regularly. They end with the aforementioned Say Hello, and it's received with the most appreciation of the night. The vocals soar, and the chords compliment perfectly. This is music to make love to.
At the end of the night, the band greet and talk to absolutely everyone, and the merch table does brilliantly. We stay until we are kicked out, talking about everything, and being pre-emptively invited back to their next Norwich visit. This evening has been a lot of fun, and I hope for big things for this divine four-piece.