We're back with another amazing twitter takeover – this time it's with our favourite cheeky chappy, so who's got a question for Anttix?
Well your a very lucky bunch once again  because Anttix will be taking over Pop Scoop!'s Twitter on Friday 7th February at 6pm so he can answer all your questions.
If you've got any questions, then tweet them over and Anttix will try to answer you all.
To get involved head over to twitter.com/Pop_Scoop at 6pm on Friday and use #AnttixtakesoverPopScoop
Anttix is also touring in April with special guests Jorden O'Keefe and Gabz and support.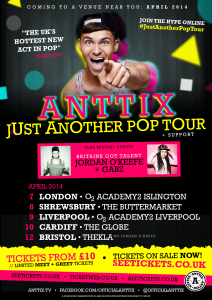 Look out for a very special competition coming in the next few days!