Pop megastars One Direction return with their next single, the title track from their world-conquering third album, Midnight Memories.
'Midnight Memories' sees the band at their most exuberant and energetic. Written by Louis and Liam with Julian Bunetta, Jamie Scott and John Ryan ('Story of My Life'), 'Midnight Memories' reflects the band's growing maturity and influence over their song writing. With the lyrics describing wild spontaneous nights out over a rock chorus massive enough to fill the stadiums they will play this summer, it's a thrilling ride of a pop song.
Following hot on the heels of 'Story Of My Life', it showcases the band's diversity and ability to perform many different genres while retaining the One Direction personality and sound. Meanwhile, the video for the single made headlines round the world – as One Direction filmed it while harnessed on top of Tower Bridge. The video will get its premiere on VEVO on January 31st at 4pm GMT.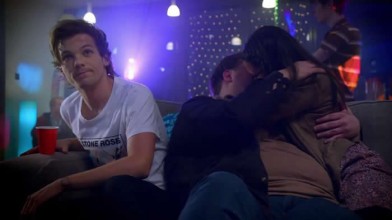 One Direction's third album 'Midnight Memories' was released in November 2013 and once again cemented the band's status as record breakers. It achieved the biggest pre-order in iTunes history, and saw One Direction become the first band ever to have their first three albums debut at No.1 in the US Billboard chart. Meanwhile it went on to hit No.1 in a further 30 countries.
'Midnight Memories' was the bestselling album of 2013 in the UK, with the highest week one sales for three years. The band are nominated for Best British Group and Best British Single at the 2014 Brit Awards.
2014 will see One Direction head off on an incredible worldwide stadium tour, taking in the UK and Europe, South America and the USA and Canada.