"Intergalactic, Planetary / Intergalactic, Another Dimension." Bow down, earthlings, and prepare to worship rising female singer/songwriter, producer and all-round pop-artiste Mila Falls!
Initially active as a collaborator and songwriter, Mila's big break came when a song of hers was featured in US film "Bring It On: Fight to the Finish" (2009). Since then she has worked at fever pitch on her own solo career, developing a unique hybrid blend of hook-laden pop, R&B, hip-hop, and dance to accompany her powerful vocal range, whilst perfecting a complete fashion look on a par with the likes of Lady Gaga and Nicki Minaj. With an extensive gigging history, she also had the rare chance of supporting music legend Ringo Starr on tour in 2011.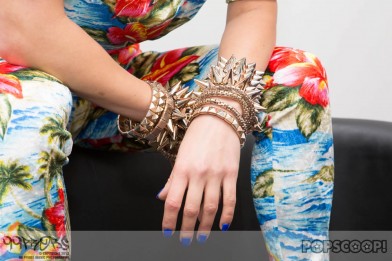 In early 2013, Mila's vocals featured on house act S.Chu's "Oh My" and she dropped her debut 3-track EP "Party in the Stars", accompanied by a wild space odyssey music video. She has been championed on Radio 1 by Annie Mac, as well as on Rinse FM and Ministry of Sound, and has garnered brand support by clothing retailer WeHustle and jewelry emporium Tresor Paris. With a host of other music collaborations and a full-length debut album in its final stages, Mila is definitely one to watch. Join the growing ranks of #Milabots and obey!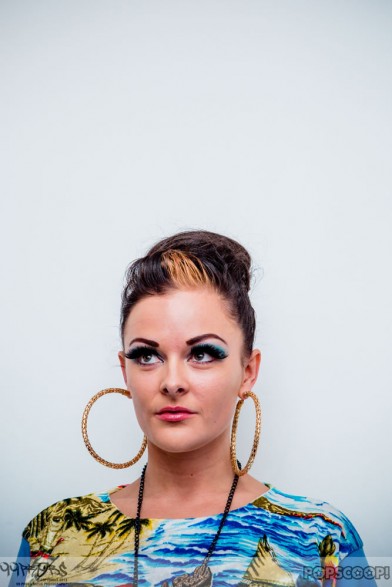 Pop Scoop! sat down to have an in-depth conversation with Mila right before her recent headline set at Epic Studios in her hometown of Norwich (it was Halloween and her birthday too). She spoke about her look and sound, what first got her into music, and her upcoming plans including gigs, new singles, music videos, and a long-awaited debut album. In addition, Mila faced our Quick-Fire Biographical Trivia Questions – with some unexpected results!
Check out more Interview pics of Mila by our partner 99Probs below: