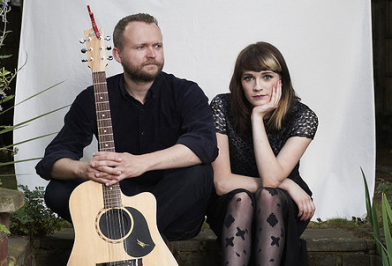 Fresh Meat Star Charlotte Ritchie (Oregon Shawcross) launches her music career with the first release from Brother and Sister duo, Luke and Charlotte Ritchie announce their digital release of debut single 'Hammerite' as a free download through their website.
Charlotte Ritchie is currently one of Britain's most exciting upcoming actresses in her role as Oregon Shawcross in the multi-award winning comedy Fresh Meat. Having joined the cast in 2011 she has already given audiences a taster of her sultry vocals with performances on the show. Luke Ritchie is a talented singer songwriter who has worked with globally acclaimed composer Nico Muhly (Bjork, Antony & The Johnsons, Grizzly Bear) and award-winning producer Paul Savage (Franz Ferdinand, Arab Strap, Mogwai).
It wasn't until Charlotte joined Luke onstage at his album launch in 2012 that the two sang together for the first time. A live recording of one of the tracks 'Right Then & There' was instantly chosen as the closing soundtrack for an episode of Fresh Meat.
Receiving an overwhelming response the duo were inspired to begin working on new material in the studio with renowned producer Richard Cardwell (Annie Lennox, James Morrison).'Hammerite' provides the first introduction of what to expect from future releases in 2014, and is accompanied by a captivating video curated by the duo in collaboration with its director Will Reid, (an emerging talent who has recently worked with such artists as Daley, Maiday and Arrows Down).
Watch Luke & Charlotte Ritchie – Hammerite Video below:
Luke and Charlotte Ritchie will be releasing new material and heading out on a full UK tour in the New Year.
Upcoming gigs:
Thursday 28th Nov | 8.30pm | The Barbershop, 7 Earlham St, London, WC2H 9LL
Monday 2nd Dec | 8.30pm | The Clapham Omnibus, 1 Northside Clapham Common, SW4 0QW
Thursday 30th Jan | 8.45pm | The Sebright Arms, 31-35 Coate St, London E2 9AG