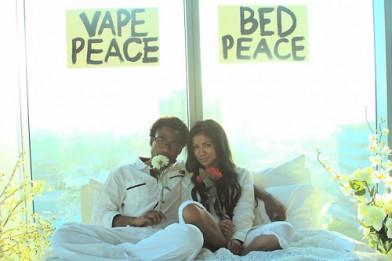 When Drake's album 'Nothing Was The Same' leaked across the internet, Jhene Aiko became one of the most exciting female vocal discoveries for music lovers the world over. Featuring on stand out track 'From Time', Jhene captivates fans with her effortless, soulful and emotionally charged lyrics and delivery due to their ability to capture the soul within.
Although her catalogue of music has already been highlighted in the United States, accumulating a YouTube presence of over 35 million hits in the process, Jhene Aiko has only recently come to light in Britain and prior to her inclusion on 'Nothing Was The Same', the singer songwriter also featured on Big Sean's latest single alongside Lil Wayne, 'Beware'. However, dig a little deeper, remove the layers of commercial charts and mainstream hits and there's an incredible library of music readily available at your fingertips from the enchanting songbird.
Debut mix-tape 'Sailing Souls' was released in 2011 and featured the incredible talents of Drake, Kanye West, Miguel and Kendrick Lamar. Whilst Jhene has a sensually sweet and soft voice, her choice of lyrics and beats often take a deeper and more aggressive stance giving her music an empathetic and relatable edge over the fanciful and romantic, something which has had huge appeal to the Hip-Hop crowd she works so closely alongside, aswell as the young no-nonsense generation.
Making her UK debut, Jhene Aiko releases the stunning 'Bed Peace' featuring Childish Gambino from her forthcoming E.P 'Sail Out'. A beautiful take on modern day love, in true Jhene Aiko style, the track is aconcoction of heart filled and sensual yet sex driven, drug fuelled and passionate. The video paying homage to John Lennon and Yoko Ono 'Bed-ins for Peace' protest against the Vietnam War. Released on the 12th November as the lead track to her E.P, which includes features with Big Sean, Ab-Soul, and Kendrick Lamar on the track listing, Jhene Aiko sails in to your soul, captures your senses and slams down the rights to why she's becoming such a modern day sensation.
 Watch Jhené Aiko – Bed Peace (Explicit) ft. Childish Gambino below: