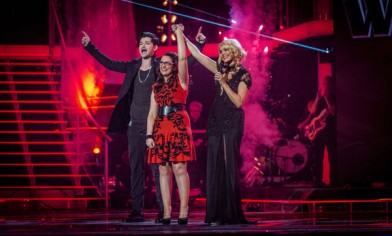 Having won over the hearts of the nation on The Voice UK 2013, Belfast-bred winner Andrea Begley becomes the highest charting and fastest selling contestant from The Voice UK to date with her debut album, 'The Message' entering the charts at Number 7.
Andrea follows her Top Ten album achievement with two headline shows- performing at the Ulster Hall, Belfast on November 3rd and the Union Chapel, Islington November 4th.
Andrea says, "I just want to say a huge thanks to all my fans who have supported my debut album. I really cherish your faith in my voice."
Previous front runner, Bo Bruce peaked at Number 10 in the Official UK Album Chart when her album, 'Before I Sleep' was out in April 2013.
Since winning The Voice UK back in June, Andrea has been busy working on the album. Even her coach, Danny O'Donoghue joined her in the studio to give his support and his seal of approval by producing the album's lead track 'The Message'.
Andrea says, "Danny has been a fantastic source of support to me both throughout the show and beyond it. He has always believed in me and in my songs and it was a total honour and privilege for him to produce one of my own songs for the album. I couldn't stop smiling while I stood in the studio with him working on the track. I count myself a very lucky person."
Including original tracks written by Andrea alongside her twist on a selection of some of her favourite songs ('Lightning Bolt', Jake Bugg and 'Dancing In The Dark', Bruce Springsteen), 'The Message' is an encapsulation of Andrea's enchanting voice and talent which won over the public's affections earlier this year.
Andrea says, "This album for me is the best showcase of myself as an artist, I think it captures my personality within it. The album is extremely close to my heart and offers the listener a first taste of the direction I intend to go as an artist beyond this point."
Beating finalists Leah McFall, Mike Ward and Matt Henry to be crowned the winner of The Voice UK 2013, Andrea has had an incredible few months. She says, "Since winning the Voice UK I've been adapting to life as a recording artist which was I must admit, a little bit of a shock to the system at first. I've been concentrating heavily on the album, choosing the right songs and getting the arrangements right as well as working on my new book about my experiences on the Voice UK. The diversity of my work is so exciting and I can't wait for more."
UPCOMING LIVE DATES:
November 2013
3 – Ulster Hall – Belfast (Tickets – http://www.waterfront.co.uk/whatson/performancedetails.aspx?id=42464)
4 – Union Chapel – Islington, London (Tickets – http://www.axs.com/events/242992/andrea-begley-tickets)
Album tracklisting:
1. Ho Hey
2. Dancing In The Dark
3. Secret Smile
4. Breakfast At Tiffany's
5. The Message (produced by Danny O'Donoghue)
6. Lightning Bolt
7. Angel
8. Latch
9. Autumn
10. Take On Me
11. Falling Slowly
12. Love Will Tear Us Apart
Bonus Track: My Immortal
Get The Message on iTunes here: