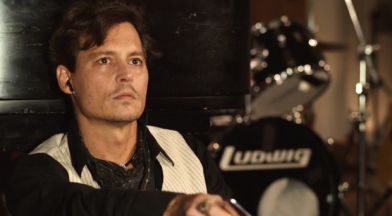 Following the release of Paul McCartney's brand NEW album last week, the video for album track 'Queenie Eye'  premiered on VEVO today and feature Paul with Kate Moss, Johnny Depp, Meryl Streep and more .

'Queenie Eye', described by Q magazine as 'jaw dropping', was produced by Paul Epworth and is one of the albums many highlights. Paul played the track live in Covent Garden last week at a spontaneous pop-up show which drew in an audience of thousands. The week before saw him do the same in Times Square, New York.
The song is based on a childhood chant Paul remembers when he was growing up in Liverpool: "Queenie eye, queenie eye, who's got the ball? It isn't in my pocket. O-U-T spells OUT!"
Paul recalls, "It came from a street game I use to play as a kid. Those kind of things always stick with you. I always liked the rhythm of the chant".
The video for 'Queenie Eye' was filmed at Abbey Road earlier this month and was directed by Simon Aboud. Featuring a number of special guests, the video sees Paul recording the track in what he thinks is an empty studio (Studio 2). As the song develops the studio starts to fill up with people all reacting in different ways to the song and Paul is completely unaware. The video brings everybody's personal experience into one place.
 How many celebs can you spot in Paul McCartney's 'Queenie Eye' video?