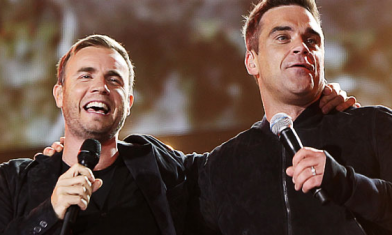 Gary Barlow's current tour is twice as popular as Robbie William's last one, according to ticket marketplace Seatwave. Demand for tickets is currently twice as high for Gary's show as it was for Robbie's.
Gary's lead in the live arena may give a clue as to who will win the chart battle, with both stars set to release solo albums in the same week. Robbie recently complained that Radio 1 has stopped playing his tracks, after they deemed the star 'not relevant for their core audience'.
Louise Mullock, spokesperson for Seatwave, said: "A bit of friendly competition is always a good thing. However, Robbie may regret going up against his former band mate because if ticket demand is anything to go by, he could find himself coming in second place again.
"However, despite signs suggesting that Gary's album will outsell Robbie's, it will fail to match the platinum selling might of Take That, proving that as a group they are greater than the sum of their parts."