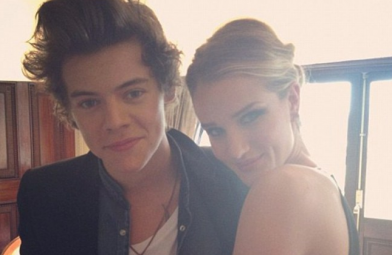 Harry Styles has revealed his ideal woman is Rosie Huntington-Whiteley, the model who is currently in a relationship with Jason Statham – adding: 'It's her face'.
In an interview in Australia, Harry was asked by a reporter "who is the most beautiful woman in the world? Other than your mother, sister or girlfriend?"
The One Direction hunk quickly answered: "Rosie Huntington-Whiteley, probably. It's her face."
Harry  went on to describe the model as, "lovely, really cool."
He wasn't the only member of 1D smitten over the blonde beauty. Liam went on to say:
"I'm not the best at talking to women. When you're with someone like Rosie, it's a bit more difficult. I was like, I don't really know what to say, so I'm just gonna kind of stand here and try to be cool."
Jason Statham and Rosie Huntington-Whiteley have been dating for over three years
We're always on the lookout for writers/presenters/videographers and photographers. If you think you have what it takes to join the writing team. Get in touch!
http://www.popscoop.org/joinus/

Posted Under