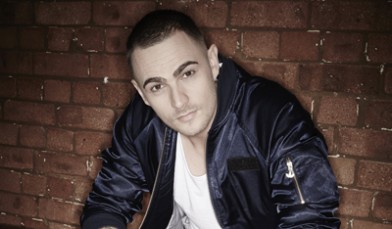 Making the leap from songwriting/producing to singing/performing can be a difficult one, but rising R&B star Charlie Brown is proving that he's mastered it successfully with some red-hot tracks!
Hailing from South London and having written songs for Jay Sean and worked with members of The Script, Charlie got his first vocal break featuring with Wiley on Bless Beats' 2009 grime hit 'The Rain'. His debut solo single 'Dependency' (feat. Yungen & Ms D) in late 2012, followed by witty, tongue-in-cheek 'She Makes Me' (def check it out – hilarious!), proved he had both the personality and soulful chops to go it alone. Third single 'On My Way', dropped in March 2013, reached #7 in the UK Singles Chart, and cemented Charlie's reputation with its anthemic, melody-driven hooks, uplifting lyrics and urban attitude.
Since then, Charlie has released emotional ballad 'Floodgates' as a solo effort and as a duet with Misha B, supported both Dappy and Craig David on tour, and completed his first UK summer festival circuit including Wireless, Isle of Wight, and Capital FM's Summertime Ball. Next up is single 'Bones' (out Oct 13th), which matches the anthemic quality of 'On My Way', but this time with a distinct EDM flavour alongside soaring vocals. His nearly 32k Twitter followers and dedicated Charlie's Angels & Devils fanbase are sure to grow.
Pop Scoop! recently had a great in-depth chat with Charlie via telephone. He spoke about what his busy past year has been like, the move from studio work to live performances, his musical inspirations, who he would love to collaborate with, album plans, and the importance of social media for him. In addition, Charlie was game enough to face our new set of Quick-Fire Fun Questions – with some surprising results (from about 13:00)!
Listen to the full interview with Charlie Brown below:
Charlie Brown – Bones available on iTunes now: