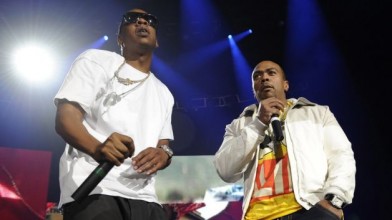 With just over a fortnight to go until the Magna Carter World Tour hits the UK, Live Nation have announced that Jay-Z will be joined by special guest, the multi-talented, Timbaland.For more than 20 years, Timothy "Timbaland" Mosley's innovative sound has redefined how the world experiences music. As the most sought after producer with multi-platinum collaborations with hundreds of artists including Justin Timberlake, Elton John, Keith Urban, Missy Elliott, Madonna, and Jay-Z, Timbaland is the number one producer in the world, according to Music Forecasting Research. Acclaimed as Billboard Magazine's Song Writer of the Decade (2011) and multi-Grammy Award winner, Timbaland is a global icon surpassing time and genre. Timbaland is currently working on his forthcoming 2014 album.
Timbaland almost missed out on the chance to work with Jay Z on new album Magna Carta Holy Grail after the old friends fell out back in 2009.
He recently explained: "Me and Jay fell out," Timbaland explained. "I missed his 40th [birthday]. It was over petty stuff. It was more personal stuff and disagreements. It was not industry related, it was more personal and I was wrong."
He continued: "It (the fall-out) was low key, nobody know about this (sic). But when you're real friends, you will disagree and not speak and come back together and realise that you're better together than apart."
Luckily for us Jay-Z and Timbaland eventually reunited and worked together on Magna Carta Holy Grail, with Timbaland producing 11 out of 16 tracks.
Jay-Z explained his side of the story in an interview for  Radio 1: "The fallout happened at the end of that album," Jay-Z said. "A couple of songs were getting leaked, and it just ruined that whole process.
"Kanye [West] was like 'let's get Tim in' [for Magna Carta Holy Grail], we were all inviting him and he just wasn't accepting to the process.
"It seemed like it was more about him than the actual album."
He continued: "When you make an album you have to put all egos aside for the sake of the project.
"That was almost like a last-straw type of thing and we went our separate ways."
"When he came back he had this new maturity and this growth and I was like 'OK, this is gonna work out'."
Jay Z – Magna Carter World Tour Featuring Timbaland
Thu 3 Oct-13 UK, Manchester Arena
Fri 4 Oct-13 UK, Manchester Arena
Sun 6 Oct-13 Ireland, Dublin O2 Arena
Tue 8 Oct-13 UK, Birmingham NIA Arena
Thu 10 Oct-13 UK, London O2 Arena
Fri 11 Oct-13 UK, London O2 Arena
Sat 12 Oct-13 UK, London O2 Arena
Mon 14 Oct-13 UK, London O2 Arena
Thu 17 Oct-13 France, Paris, Bercy
Fri 18 Oct-13 France, Paris, Bercy
Sun 20 Oct-13 Switzerland, Zurich Hallenstadion
Mon 21 Oct 13 Belgium, Antwerp, Sportpaleis
Wed 23 Oct-13 Norway, Oslo Spektrum
Fri 25 Oct-13 Sweden, Stockholm, Globe
Sun 27 Oct-13 Germany, Hamburg O2 World
Mon 28 Oct-13 Germany, Cologne Lanxess Arena
Tue 29 Oct-13 Netherland, Amsterdam Ziggo Dome
Tickets for UK dates are on sale now priced at London £70, £55, £40, Regionally £65, £50, £37.50 (subject to per-ticket charge plus order processing fee) and are available from www.livenation.co.uk or www.ticketmaster.co.uk
Official VIP packages available from www.VIPNation.eu