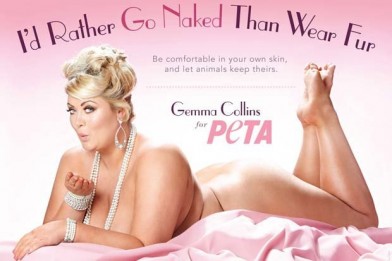 Lounging on satin sheets – and wearing nothing but a smile and faux pearls – The Only Way Is Essex star and plus-size fashion designer Gemma Collins stars in a brand-new PETA ad that proclaims, "I'd Rather Go Naked Than Wear Fur". And to kick off the campaign, Collins unveiled the ad – in person – in central London today. The ad was shot by top celebrity photographer Karl Grant.
"Like PETA, I believe that beauty comes in all shapes and sizes", she says. "You don't have to be a size 8 to feel beautiful, but you do have to be comfortable in your own skin. And that means letting animals keep theirs – not killing them for their fur."
Animals on fur farms spend their entire lives confined to cramped, filthy cages before they are beaten, gassed or electrocuted – and even skinned alive. For these reasons, Collins and other high-profile designers – including Ralph Lauren, Stella McCartney, Tommy Hilfiger, Calvin Klein and Vivienne Westwood – refuse to use animal fur in their designs.
Collins joins a long list of celebrities – including Eva Mendes, Pamela Anderson, Kate Ford and Sadie Frost as well as fellow Essexers Rylan Clark, Chantelle Houghton and Lauren Goodger – who have bared their skin for PETA in order to help animals keep theirs.