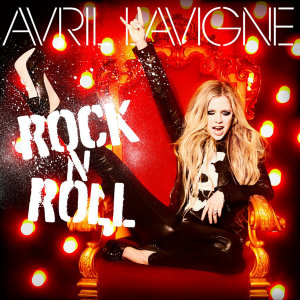 Avril is nearly 30?! Holy smokes! So, what does everyone's favourite Sk8er Grrl do to commemorate this fast-approaching milestone? Record an album of standards from the Great American Songbook? Start dressing with mature, lady-like sophistication? Like hell!!
The lead single from her upcoming fifth album was appropriately entitled 'Here's To Never Growing Up' and her sound & look have essentially not changed one iota since she debuted back in 2002 with the breakthrough hit 'Complicated': catchy, hook-laden, radio-friendly pop-punk/rock sung by your buddy's grungy yet cute tomboy kid sister.
The album's second single 'Rock N Roll', produced by pop-meister Max Martin, is musically more of the same with a fistful of stadium-rock flavour to match its title. Wrapped in glossy production, electric guitar power chords are synchronised to a thundering full drum kit and overhead handclaps. Avril sing-shouts lyrics about care-free non-conformance in her usual piercing falling cadence and uses call-and-response with her multi-tracked self to insta-invoke classic rock anthems such as 'I Love Rock 'N' Roll' or 'We Will Rock You'.
Typically, her trademark phrasing sounds like she's o-ver-e-nun-ci-a-ting ev-er-y syllable and word for some particularly slow foreign exchange student – one that wants to know what a "motherf***ing princess" means, of course. All together it's nothing new, then again it isn't meant to be: "I like it better than the hipster bulls**t [. . .] Let 'em know we're still rock 'n' roll". Why stray from the tried and trusted, ey?
In total contrast, the video for 'Rock N Roll' is A1-grade "hipster bulls**t" – but I mean that in a good way. In a loving homage to Jonas Akerlund's video for Lady Gaga's 'Telephone', red-hot director Chris Marrs Piliero has concocted a bonkers comic-book hero tale of Avril saving rock 'n' roll.
There's an evil Bearshark, a knife-toting lobster, a magical guitar/chainsaw like a reject weapon from 'Gears of War', a pastiche of Slash's guitar solo in the video for Guns N' Roses' 'November Rain', and a gratuitous make-out scene between Avril and Danica McKellar from 80s-90s TV-show 'The Wonder Years'. It may not really gel convincingly with the song, but it definitely helps to reawaken our interest in Avril! (Just please spare us Miley Cyrus-style twerking, OK?!)
Release Date: TBC
Watch Avril Lavigne's 'Rock N Roll' video below: