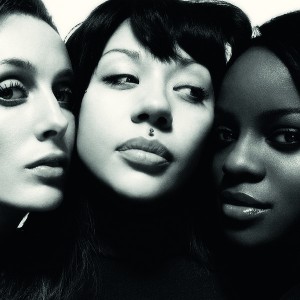 It's the Sugababes! No, it's MKS! But that's the Sugababes! Or was the Sugababes at some point! It's the 80s! No, the 90s! Well, no, it's actually the 2010s, but half the time that's retro 80s and 90s anyway! Forgive me if I'm confused.
In what could be understood as some sort of cosmic karmic twist, the original 1998 Sugababes have reformed as Mutya Keisha Siobhan or MKS, and dropped 'Flatline' as the lead single from their new album due in early 2014.
Together with producer-du-jour Dev Hynes (who has worked with Solange Knowles and is currently in the studio with both Kylie and Britney), MKS have crafted a very fresh and unique sound to go with their melancholic yet uplifting song of love and desire gone flat. On a deceptively simple base of piano chords and tropical electric guitar-picking, accompanied by spare snare drum and shaker percussion, the girls' ultra-smooth, crooning, multi-layered harmonies are backed by a chanting male choir.
The bridge consists of a kodo/taiko-like drum solo, which together with the vocals, builds into a beautiful crescendo of sound before quickly and decisively trailing off, leaving the listener aching for more. A line from the chorus says it all: "I can feel the flatline, that oughta be a wave".
Well girls, this comeback is definitely not a flatline, and if this track is anything to go by, we can't wait to keep riding the wave!
Release Date: 15th September
Preorder you copy on iTunes here:
Watch Mutya Keisha Siobhan – Flatline (Official Lyric Video) below: