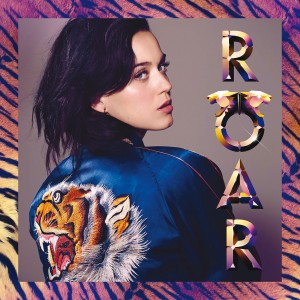 The lead single from Katy's upcoming fourth album 'Prism', 'Roar' was co-written with the likes of Dr. Luke and Max Martin, and has been touted as a glam-rock game-changer and hair-metal rebirth after her recent extended hiatus.
OK, so maybe it isn't a massive musical departure from her previous work (see 'Firework') and maybe it does sound a lot like  and is about similar issues to Sara Bareilles' 'Brave'.
Nevertheless, it's actually in direct comparison with 'Brave' that 'Roar' reveals itself as an undoubted masterclass in Power-Pop Anthems 101.
Take a solid mid-tempo tune, amp it up with a stonking synth bass-line, accentuate the verses with echoing, assertive "hah!"s, pump the chorus along with a thunderous drum beat, and multi-track Katy's throaty voice into rabble-rousing mode, and you've got a song that's definitely "louder than a lion".
Buh-bye brave miaow, hello roar!
Release Date: 8th September

Get Katy Perry's 'Roar' on iTunes here:
Watch Katy Perry – Roar (Lyric Video)