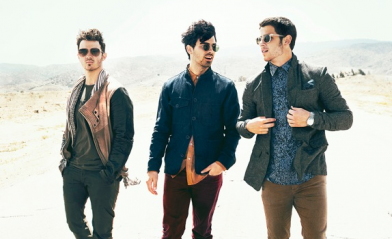 After a three-year-hiatus, multi-platinum, Grammy-nominated music group Jonas Brothers are back and set to release their highly anticipated first single, "First Time", released September 23rd on Polydor from their upcoming fifth album "V".
The re-emergence of Jonas Brothers, Nick, Joe and Kevin, is already resonating with audiences. Last October the brothers took to the stage at New York's iconic Radio City Music Hall to preview new material – not only did the show sell out in a matter of minutes, but also the band received critical acclaim from the US press saying the show "wasn't just a celebration of where they've been but also where they're headed" (MTV) with Seventeen.com declaring "The Jonas Brothers still have it!".
"First Time", an epic guitar heavy pop ballad, brings both the sense of the familiar and of the new for fans of Jonas Brothers. With the groups trademark harmonies, the anthemic track reminds us why Jonas Brothers are one of the biggest music groups in the world today. The pop video for "First Time" was shot in June in Las Vegas, where Jonas Brothers invited 20 friends to join them for an epic weekend – premiere details to be announced shortly.
Currently on their 25-date US tour, plans for UK and European dates will be announced this year.
The band has also become part of the pop TV landscape with the highly popular reality TV series, "Married to Jonas." The hit series of Kevin and Danielle Jonas' reality TV show on E! chronicles the couple balancing domestic life with Kevin's music career.
The Jonas Brothers burst onto the music scene in August 2007 with their self-titled debut album, which included the hit single, "S.O.S." The album debuted in the UK Top 10. With the release of the band's second album, A Little Bit Longer, the Jonas Brothers became the first artist ever to have three albums on the Billboard Top 10 at once: Jonas Brothers, A Little Bit Longer and the Camp Rock soundtrack. In 2009, they released Lines, Vines and Trying Times, a global hit that debuted No.1 on the US Billboard chart.
Jonas Brothers have sold a combined 20 million units worldwide, earning over 40 Gold and Platinum record certifications. They also own the Guinness World Record for "Most Singles to Enter Straight into the U.S. Top 20 in a Year by a Group," with five singles in 2009. They received their first Grammy nomination in 2008 for Best New Artist, and have won nearly 50 awards across the globe, including an American Music Award.
"First Time" was produced by Nick Jonas and written by Nick Jonas, Joe Jonas, Kevin Jonas and Paul Phamous.
Watch the video for 'First Time' below: