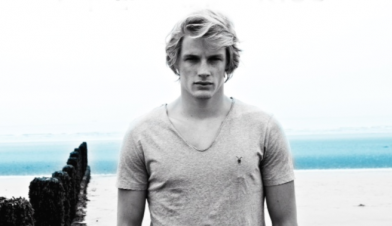 Fresh from the release of his critically acclaimed 'Illusion' mixtape, TJ Bilham is back with 'One More Kiss'. The brand new track is co-written written by Andy Brown from Lawson who is responsible for multiple top 10 singles and Lawsons number 4 smash hit debut album 'Chapman Square'.
The multi talented singer-songwriter based in Glasgow was discovered by world renowned music producer John McLaughlin (Sandi Thom, Echo and the Bunnymen, Busted and many more) TJ has been continually gigging and working on his debut album with big radio names such as Jim Gellatly (In Demand : Uncut) and James Barr (Capital FM) already tipping him for big things.
With the release of 'One More Kiss' TJ Bilham is set to establish himself as a force to be reckoned with and showcase his unique brand of guitar driven pop to the world.
"I wrote a song for TJ Bilham a while ago called 'One More Kiss' and I'm glad he's recorded it and doing well. We started out as songwriters so it's great to see other people cutting our songs." –Andy Lawson
'One More Kiss' is set for release on September 15th. Watch the video here: