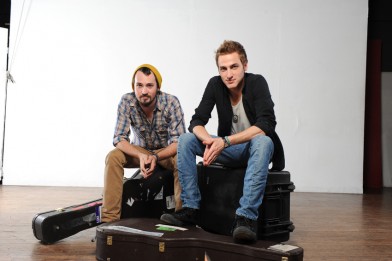 As lead singer of Big Time Rush, America's most well-known boy band via Nickelodeon's hit television series plus his active role in Heffron Drive, Kendall Schmidt is one busy guy. Though he will spend the summer continuing the Big Time Rush world tour, autumn brings even more activity and plenty of world travel for the teen heartthrob.
With his focus moving into music and a limited amount of television specials and movies, Kendall will have more free time to continue touring with both bands as well as log some serious studio time, which is so important to the longtime songwriter that, at any given time, he has over 50 unreleased songs to his name. Long a believer in constant interaction with fans, Kendall will keep up the dizzying pace of press tours, personal appearances and meet and greets, both in the States and abroad. In fact, come September, Kendall will be performing with both bands at Nickelodeon Australia's Slimefest, always a fan favourite. Kendall plans to spend quite a while Down Under and hit hard the studios of both Australia and New Zealand, a place he came to know and love while penning a song with Logan Henderson for New Zealand's biggest pop group Titanium whose debut #1 single "come on home" achieved double platinum status.
Heffron Drive, actually founded by Kendall prior to his joining Big Time Rush, was born of a chance meeting. After chatting at an industry event one night in Los Angeles in 2008, Kendall and Dustin Belt realized there was a lot more in common than meets the eye – both had been born in Wichita, Kansas, and when they went to make their way home, they realized they lived on the same street – Heffron Drive. Aside from becoming instant friends, the duo formed a band – what to call it was obvious – and thousands began streaming uploaded tunes via MySpace. The internet was soon buzzing about this new band, but shortly thereafter the Big Time Rush opportunity came along. Kendall joined up and eventually, Dustin was tapped as the touring guitarist for the group. The two never forgot about Heffron Drive, though, stealing spare moments to write and plan.
Big Time Rush's force, however, was undeniable. Now in its fourth season, Big Time Rush averaged just under 4 million viewers per episode. The series, which boasts the highest-rated and most-watched Nickelodeon live action premier among kids, tweens and total viewers at a whopping 6.8 million, is as much of an overseas sensation as it is in the US. Big Time Rush is seen in 78 territories and in 17 languages via Nickelodeon channels and syndication. Equally impressive, Big Time Rush has sold 4.33 million singles and more than 1.35 million albums to date. The band also holds the record for fastest sell-out time at Radio City Music Hall – ten minutes!
For more information and to stream, please visit:
You are using an outdated browser. Please upgrade your browser to improve your ReverbNation experience. ReverbNation makes heavy use of javascript You should enable javascript on your browser to best experience this site.
Facebook – www.facebook.com/heffrondrivemusic
Twitter – www.twitter.com/heffrondrive