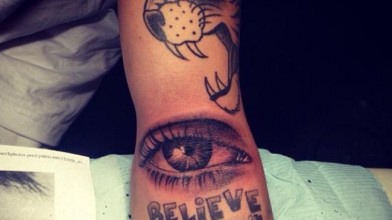 Justin Bieber is yet again in the public 'eye', this time for a rather interesting tattoo design inked onto the arm of the Canadian superstar – his mum's eye.
After a string of incidents in recent months from his 'pet monkey fiasco' all the way to his 'urinating in a bucket', some may have thought it be best the 'Baby, Baby, Baby' singer try and keep his head down.  However, an instagram post on Wednesday revealed his newest design, taking his total number of tattoos to 16, and sending 'Beliebers' wild.  
The large 'eye' located on the 19 year olds left arm accompanies his array of other designs, such as 'Believe' relating to his third studio album.  His newest inking was down to the handy work of Hollywood tattoo artist 'Bang Bang', who has left his mark on fellow singers such as Rihanna, Katy Perry and Chris Brown.    
His post on Instagram was accompanied by the comment "Mom's always watching    ;-)", referring to his mother Pattie Mallette.  It is well known that Bieber shares a close relationship with his mother and his latest body art seems to be a dedication to her.   It is not the first time one of the singer's tattoos has caused a stir, one of his previous sessions resulted in a lady that looked incredibly similar to his ex-girlfriend Selena Gomez.  
In recent months Bieber has seemingly spiralled out of control, with displays of erratic behaviour and public bust-ups occurring on almost a weekly basis.  Whilst in London earlier this year the teenage sensation left his devoted fans waiting for almost two hours before eventually making his way to the stage at The o2.  
Lets hope that his mothers watchful eye helps Justin concentrate on what he does best.