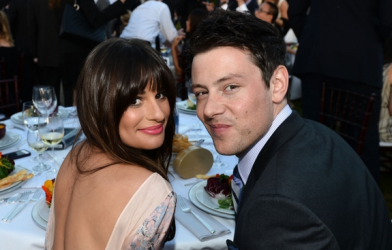 Lea Michele has been left 'devastated beyond belief' after the death of her boyfriend and Glee co-star Cory Monteith, whose body was found in a hotel room in Vancouver, Canada, on Saturday.
A spokesperson for the actress issued a statement, saying: "We ask that everyone kindly respect Lea's privacy during this devastating time. Thank you."
A source close to the 26-year-old actress also told HollywoodLife.com: "She is absolutely hysterical and completely inconsolable. She is devastated beyond belief."
Lea and Cory officially announced they were dating in February 2012–a year later, Lea told Marie Claire, "I don't even remember a time when he wasn't my boyfriend."
She added, "No one knows me better than Cory. No one knows what it's been like to go through this more than he does…He makes me feel like I can do anything. For the first time in my life, I feel really, really settled and happy. I feel like the luckiest girl in the world."
Cory's publicist Melissa Kates said: "We are so saddened to confirm that the reports on the death of Cory Monteith are accurate. We are in shock and mourning this tragic loss."
Cory, 31 – who played Finn Hudson in the musical drama – was discovered in his room by hotel staff after he failed to check out at the designated time.
In a statement, Acting Chief Doug LePard commented: "Shortly after noon today, the Vancouver Police received a call from the BC Ambulance Service regarding a sudden death in a room on the 21st floor of the Fairmont Pacific Rim Hotel at 1038 Canada Place in downtown Vancouver.
"The deceased has been identified as 31-year-old actor Cory Monteith, who achieved great fame on the popular TV series 'Glee'."
Ce;lebreties have taken to social media to send their love to Corys loved ones and express their sorrow.
Rihanna wrote: "Cory Monteith, may your spirit be at peace, and may you fly with the angels… Heartbreaking, my prayers are with all of his loved ones!"
Taylor Swift tweeted: "Speechless. And for the worst reason."
Demi Lovato, who has also been to rehab to battle depression in the past, wrote: "#RIPCoryMonteith… So unbelievably tragic."