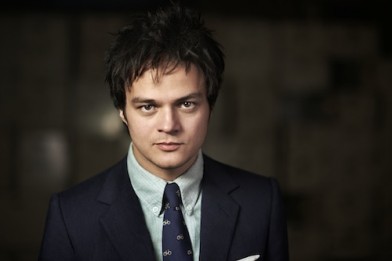 Jamie Cullum today releases the video for 'Edge Of Something', the second single to be released from his new album 'Momentum'. The song will be released on July 15th through Island Records.
'Momentum' is a confident departure from Jamie's previous work, hailed by critics as some of his best work to date, experimenting with a more accessible sound; big songs with lots of interesting shades, whilst still managing to inject what Jamie does best as a jazz pianist. 'Edge Of Something' epitomises the spirit of adventure and infectious nature of 'Momentum'; it's the sound of an artist on a creative roll, bursting with ideas and inspirations.
Jamie released his sixth studio album on May 20th. Titled 'Momentum' for good reason, it is a progressive record for him as an artist and reflects a big turning point in his life. It was produced in part by Jim Abbiss (Arctic Monkeys, Adele) and Dan The Automator (Kasabian, DJ Shadow) who all helped to bring out a new, explorative side of Mr Cullum's talent to create an album that is brimful of some beautiful and epic songs.
An autumn tour has just been confirmed that will begin on October 14th at the Olympia in Dublin and will take in 16 UK dates including; Belfast, Edinburgh, Birmingham, Manchester and the Roundhouse in London.
Anyone who has seen Jamie live before knows that he's one of the best performers the UK has to offer; he gave people a taste of what this grueling 16-date tour (over almost as many days) will have to offer when he recently played three different venues on the same day to promote the launch of his new album. He played on the concourse at St Pancras International, The rooftop at Shelter UK, with the finale at The London Shard. Each show was an absolute roadblock and you can expect the same this October for the 'Momentum Tour'.
Watch Jamie's video for 'Edge Of Something' below: