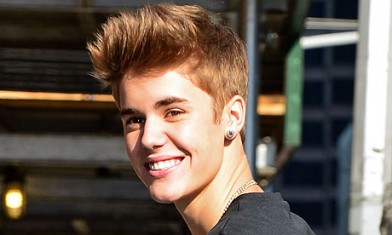 Justin Bieber took back the No. 1 spot on the Billboard Social 50 chart this week while knocking One Direction down the rankings from No.1 to six.
One Direction were a hive of activity with the premiere of the trailer for the upcoming film This Is Us and a taste of the new single, "Best Song Ever." Despite the VEVO trailer earning 4.4 million global viewers, the group's weekly rate of fan acquisition dropped by 78%.
Bieber on the hand added 1 million new fans overall, a 6% rise compared to the previous week. Bieber uptake of Intagrams new video feature played a big part in his social rise. The Canadian star posted video selfies, acquiring him 236,000 followers on the platform – a 67% increase.
Justin Timberlake had a massive boost from 10-5 thanks to a June 30 BET Awards performance with Pharrell Williams, Charlie Wilson – increasing his twitter followers by 675,000 across Twitter, Facebook and Instagram.
Jennifer Lopez also returned to the top 10, after reaching the 20 million milestone on Twitter during the week, an achievement she celebrated by tweeting "20 million beautiful and incredible Twitter followers who know how to #LiveItUp!! Thank you!!!!! #Blessed #BestFansEver #20millionJLOVE!RS"
Top 10 of Social 50 Chart
01. (02) Justin Bieber
02. (03) Taylor Swift
03. (04) Rihanna
04. (05) Beyonce
05. (10) Justin Timberlake
06. (01) One Direction
07. (11)Jennifer Lopez
08. (06) Bruno Mars
09. (08) Eminem
10. (13) P!nk
We're always on the lookout for writers/presenters/videographers and photographers. If you think you have what it takes to join the writing team. Get in touch!
http://www.popscoop.org/joinus/

Posted Under