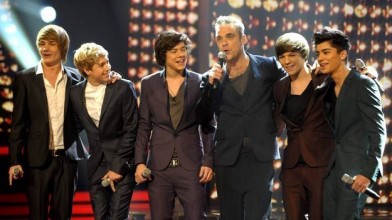 Robbie Williams has admitted he has a strong bond with One Direction and feels like he's the sixth member of boy band.
Robbie performed with the boys when they competed on the X Factor final back in 2010 so has seen them grow from day one and the former Take That star is no stranger to life in a boy band himself.
Speaking to Event magazine, Robbie admitted: "They are [my brothers]. I sang 'She's The One' with them on 'The X Factor', so I've seen various stages of their growth.
"And I've been a member of One Direction, as it were. So I like seeing how they're doing."
Robbie also revealed he is "envious" of Harry Styles' womanising, partying lifestyle adding: "I've been following Harry and his messy romances and being slightly envious.
"Checking out their new tattoos and me showing them my new tattoos. I'm in the One Direction bad tattoo club. I have bad tattoos – so do they."
"They're winning. They've got some horrendous ones."
He believes the boys may stray as they don't have the sensible, calming members like Gary Barlow and Jason Orange.
"It seems as though there's no Jason Orange and Gary Barlow there to tell them off and give them, ironically, a bit of direction. It would seem that it's a band of Robbies and Marks. It's going to be fascinating to see what happens."
He added:
"You know, it's their journey. If they need my help I'll be there. But I'm sure they'll be fine. I'm sure there's going to be some miraculous moments and some hellish moments, but that's life."